Local teen band plays Denver venues
August 1, 2009
/
/
Comments Off

on Local teen band plays Denver venues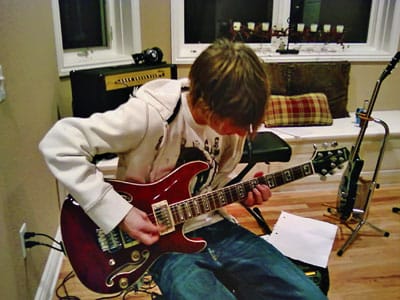 by Carin R. Kirkegaard
Revenge on Schulte, a band comprised of local Rock Canyon High School (RCHS) students has been making a name for itself while playing various Denver venues.
Lead singer Ben Hilzer and Chris Battin, lead gutarist, founded Revenge on Schulte nine months ago with fellow RCHS classmates Andrew Wilson, rhythm guitarist, Ryan McGavin, bassist and James Strosahl, who plays drums.
Although Hilzer and Battin have been playing together for the past two years, they didn't find the right mix of band members until Wilson, McGavin and Strosahl came along. "Dedication is huge," said Hilzer.
Revenge on Schulte currently has eight original songs that they play in a set. Battin, the rhythm guitarist for the band also writes the music and lyrics. Once Battin has finished a song he brings it to the group where Hilzer will adjust the lyrics according to his style.
Battin works to achieve a complex array of rhythms in the music. "Math has actually helped me to subdivide rhythms," said Battin. In the end, their music is a mix of pop, punk and metal.
According to Hilzer and Battin, Blink 182, The Offspring, Bullet for My Valentine, and My Chemical Romance are some of the groups that have been a big influence in the music they make today.
Hilzer and Battin's favorite original song to play in a show is "It Always Comes in Threes." "Hot and Cold", by Katy Perry is one of the popular covers they perform.
Revenge on Schulte has played such venues as the Gothic Theatre, Cervantes Masterpiece Ballroom and the Oriental Theatre.
Each member from Revenge on Schulte is involved with music at Rock Canyon. They all participate in chamber orchestra and many of the band members also spend time in jazz band and choir.
As seniors, Battin and Hilzer are looking down the road to college, but both hope to stay involved with music along their journey.
To learn more about Revenge on Schulte, or to catch a show, contact Hilzer at ben.hilzer@yahoo.com.