Lone Tree Arts Center debut season coming
August 1, 2011
/
/
Comments Off

on Lone Tree Arts Center debut season coming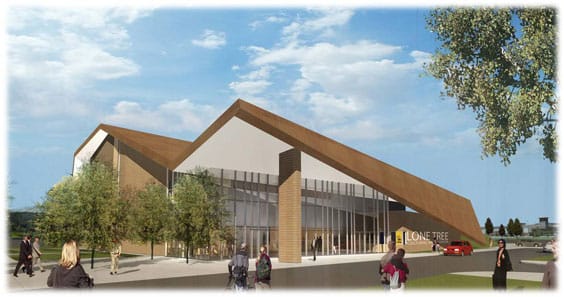 Tickets are now on sale for the Lone Tree Arts Center's inaugural season, which begins on September 9, 2011.
A season ticket package with a theater series and the option to purchase priority seating to up to seven additional single performance events is available, as well as tickets for single performances. Season ticket packages may be purchased online 24 hours a day or by calling 720-509-1000, Monday through Friday from 10 a.m. to 4 p.m. Two "sampler" mini-packages will also be available.
Opening the new Lone Tree Arts Center will be original cast members of the Pulitzer Prize-winning Broadway musical RENT, Anthony Rapp and Adam Pascal, in a special concert evening on Friday, September 9. Other national touring productions coming to Lone Tree include acclaimed Celtic group The Tartan Terrors, the indie-pop-musical theatre trio GrooveLily, and International Magicians of the Year – Spencers Theater of Illusion.
Additional highlights of the Inaugural Season include the award-winning Arvada Center productions of the Broadway musicals Ragtime and Chess, directed by Rod A. Lansberry; the Creede Repertory Theatre production of Unnecessary Farce, directed by former Denver Center Theatre Company actor/director Jamie Horton; a holiday production of the family musical Irving Berlin's White Christmas, directed by Paul Dwyer; and performances by Opera Colorado and Stories on Stage.
In addition to the Lone Tree Presents season, the Arts Center will also be the new home of the Lone Tree Hosts series featuring the Lone Tree Symphony Orchestra and community performances including The Douglas County Libraries Author Series, Kantorei, the Colorado Chamber Players, the Denver Concert Band and local youth groups.
Additionally, the Lone Tree Arts Center will feature extensive educational and family programming including the launch of creative classes for families and children. A family performance series will be announced early this summer and will begin with an inaugural performance by Lone Tree's own Dr. Noize.
The Arts Center will also be available as a rental facility for local businesses, civic groups, and social gatherings.
For tickets and information about the Lone Tree Arts Center, visit www.lonetreeartscenter.org.