"Make it your own" makes breakfast your way
December 1, 2009
/
/
Comments Off

on "Make it your own" makes breakfast your way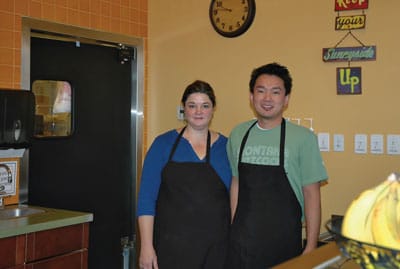 Nanette and Danny Park own MiYO – a restaurant in the Village at Castle Pines Shopping Center that specializes in fresh, made-to-order breakfast and lunch offerings.

Article and photo by Lisa Crockett
Breakfast means different things to different people. For some, it's quick, hot, served in a cup and gulped on the way to work. For others, it's a lavish sit-down affair with all the food groups represented. For still others, breakfast is the perfect occasion to satisfy a sweet tooth. At MiYO in The Village at Castle Pines Shopping Center, owners Nanette and Danny Park want you to have breakfast or lunch any way you like it.
The restaurant's name, which stands for "Make it Your Own," bespeaks the restaurant's philosophy.
"Our mantra is to Make It Your Own by customizing it to your delight," said Nanette Park. "Yes there are set menu choices, but at MiYO, we're about letting customers choose add ons, deletions, etc. We are a fast casual restaurant, meaning: ordering and paying at the counter, then having the food served to you. Simple, fun, fast and easy. No long waits."
The menu emphasizes traditional breakfast choices like omelets, eggs Benedict, breakfast burritos, pancakes, and breakfast sandwiches. Lunchtime offerings include sandwiches, wraps, burritos, burgers and soup. Also on offer are a variety of made-from-scratch pastries and coffee from local roaster Coda Coffee.
"We are proud to be a great coffee house, bakery, full breakfast and lunch restaurant," said Park.
The house specialty is the breakfast burrito, which includes the option to "smother" with a pork and green chili sauce. Another signature dish is the southwest Benedict, consisting of two whole-wheat English muffins, two poached eggs and shredded pork carnitas, topped with green chili sauce as well as freshly-made hollandaise.
MiYO is located in the Village at Castle Pines shopping center (in the former Castle Creek Bakery location) and is open from 6:45 a.m. until 2 p.m. Monday through Friday, 8 a.m. until 2 p.m. on Saturday, Sunday from 8 a.m. until 1 p.m. For more information, including information about ordering holiday items, visit www.miyocafe.com.