Make Monday meatless and marvelous
April 1, 2019
/
/
Comments Off

on Make Monday meatless and marvelous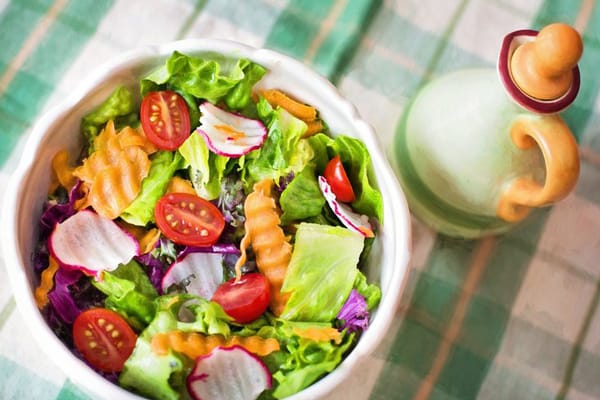 By Lisa Crockett
There are a lot of reasons to eat less meat. Vegetarian diets tend to be higher in nutrients and lower in calories than diets that include meat. In addition, vegetarian diets tend to have a lower carbon footprint than carnivorous ones, so going meatless is arguably better for the planet. Still, omitting meat entirely is pretty extreme, so many dietitians and healthy-eating advocates recommend a "flexitarian" approach instead, which means saying no to meat some of the time, rather than an all-or-nothing diet. Eating a vegetarian menu on Mondays is one way to embrace the beauty of vegetarian eating without giving up your love for hamburgers and barbecued chicken. Here are some ideas for your meatless Monday:
Try tofu: Because of its soft texture and mild flavor, tofu sometimes gets a bad reputation, but those challenges are easily solved. Because tofu takes on the flavor of what it's cooked with, opt for savory sauces (bottled teriyaki sauce is an easy choice) and lots of veggies (broccoli, carrots, and multi-colored peppers are great choices) to accompany it. To give tofu a more meaty texture, place it between two heavy, paper-towel-lined plates to drain for at least 15 minutes prior to cooking; then cut it into small cubes to be used in soup or stir-fry.

Swap meat for vegetarian protein: Many dishes easily accommodate non-meat options. Mexican foods like burritos and chili are quite tasty with beans alone instead of meat. Eggs are another great option for protein, particularly hard-boiled for use in salads and sandwiches. If you're feeling adventurous, simmer your favorite bottled spaghetti sauce in a large frying pan on the stove, then carefully make four or five "wells" in the pan and add four or five eggs; cover and simmer in the sauce until the whites are opaque. Serve with crusty rolls.

Make soup for supper: Vegetable soup is, of course, a perennial favorite. If you find your favorite recipe (or even your favorite canned soup) is a little unsatisfying, though, think about adding quinoa, barley, or cubed sweet potatoes or red potatoes to make it more filling and to round out the flavors.
Think spring: This time of year, vegetables in the supermarket begin to take on the vibrancy and vitality of spring, so grab a few extra at the store – think snow peas, chopped asparagus, and baby zucchini for flavors that match the season. Sauté them quickly in olive oil, then add them to freshly boiled pasta with a pat of butter, a splash of cream and a (generous) sprinkle of Parmesan.

Rice bowls have endless options: Start with your favorite steamed brown or white rice and then layer on your favorite toppings. Mexican ingredients are delicious, but so are Mediterranean (chickpeas, tomatoes, cucumbers, red onion and tahini) and Asian (broccoli, tofu, red peppers, pineapple and bottled ginger dressing).

Get inventive with sandwiches: Don't forget that a sandwich doesn't need meat to be delicious. Grilled cheese is an amazing partner with tomato soup, particularly if you splurge on a beautiful loaf of crusty bread. Cucumbers and tomatoes on hearty bread schmeared with cream cheese or mayonnaise are another delicious, light choice. Pita pockets filled with hummus, cucumber and tomato make a quick, hearty supper.
Go with a classic: Salads are often the first thing people think of when they think of vegetarian dishes. Look for unusual vegetables and out-of-the ordinary dressing (the Green Goddess dressing at Trader Joe's is good enough to drink with a straw) to liven up what might otherwise be a little ho-hum. If you want to skip the fork, layer your favorite ingredients into romaine lettuce leaves for lettuce wraps instead.