Master Association to Give Input On Canyons North Development
July 1, 2006
/
/
Comments Off

on Master Association to Give Input On Canyons North Development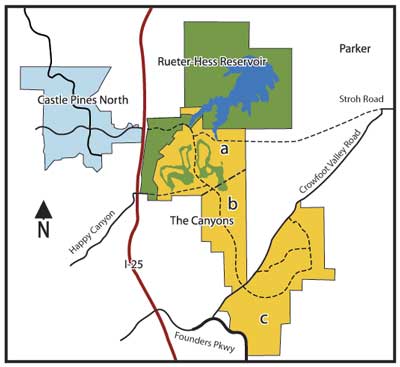 By Terri Wiebold
The Canyons is a proposed residential development to the east of Castle Pines North (CPN), across Interstate-25. It is divided into two separate sections – Canyons North which extends from the Castle Pines Parkway interchange south to Crowfoot Valley Road, and Canyons South which fills the land between Crowfoot Valley Road and the new Pradera neighborhood.
The northern section of the development, which will have the most impact for CPN, is owned by the Alpert Company. It submitted its Land Use Application in March, 2006. It is currently in the Douglas County planning process, which requires submission to adjacent communities for referral. The referral process allows potentially-impacted communities to view the plans for development and submit feedback to the County prior to final approval.
As of press time, the Architectural Review and Design Committee for the Master Association had received the referral and was reviewing the plans and formulating comments to be submitted to the County by July 25. According to the Chairman of the committee, Bill Ader, the Master Association would be addressing several questions and concerns to the County, including:
What traffic impact will the development have on the CPN community?
Who will be the water district for the development, and where will it get its water?
Will the proposed 500 student school be adequate to accommodate the Canyons population? If not, where will those children go to school?
"These questions are pretty standard with any new development in the area," said Ader, "but especially with a development as large as the Canyons."
The four-member committee has been involved in the referral process for several developments in CPN, including the proposed CC-20 site (see update on page 1) and more recently, Walgreens. When asked his initial impressions on the plan, committee member Harley Rinerson said, "The general layout looks a lot better than it did five years ago. The reduced density will help traffic issues."
To contact the committee regarding the referral, e-mail drc@cpnhoa.org. For additional information about the development plans, go to www.douglas.co.us/community/planning or www.thecanyonsliving.com. Watch for continued updates in The Connection and at www.cpnhoa.org.