Master Association's first book and DVD swap speaks volumes
April 1, 2011
/
/
Comments Off

on Master Association's first book and DVD swap speaks volumes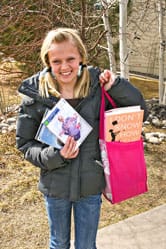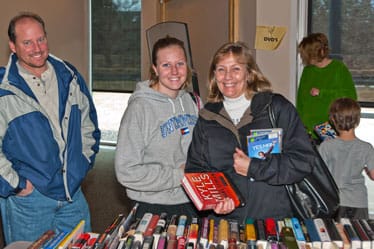 RHMS sixth grader, Shyanne Curtis, loaded up on some good reading and viewing materials at the Castle Pines Book and DVD Swap.Residents came in droves, perusing the wide selection of hard and soft covers. The Master Association and the Castle Pines Chamber of Commerce collected more than 3,000 books to share with the community.
By Kathy Dunker with photos by Tim Gamble and Kathy Dunker
The Castle Pines community center was buzzing with enthusiastic residents on Saturday, March 5, when the Castle Pines North Master Association, in conjunction with the Castle Pines Chamber of Commerce, held its first annual book and DVD exchange. More than 3,000 books and 150 DVD's were collected in seven days and attendance at the swap was a whopping success.
About 500 Castle Pines residents attended the event which made for roughly 2,300 book swaps to take place. The remaining 700 books were donated to Goodwill. The swap was free to the community, but donations were gladly accepted. The Master Association raised $280 for The Giving Tree which is part of the Douglas/Elbert County Task Force and Food Bank of the Rockies.
Event organizer and Master Association Board Member, Jim Steavpack, commented, "We were thrilled with the turnout, especially because this was the first year we organized the event. We really appreciate the support of the Castle Pines Chamber and the community volunteers who made the event fun to be a part of," said Steavpack. "We are so happy with the success of the Book Swap that we are contemplating making this a biannual event. Start setting aside your books and DVD's for a possible winter repeat!"