Metro District Welcomes New Board Member
August 1, 2007
/
/
Comments Off

on Metro District Welcomes New Board Member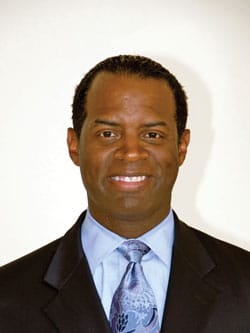 Carl Lowman, new Metro District Board Member (photo by Tim Gamble)

by Lorraine Masonheimer
The Castle Pines North (CPN) Metro District Board of Directors recently appointed Carl Lowman as a volunteer member-at-large replacing Jonette Brown Eyes who recently moved from the community. Lowman's term expires in May 2008.
"We received many qualified applicants and they all would be an asset to the board," said Ted Lohr, newly appointed Metro District President. "Carl has a skill set that meets our needs at this time." Lowman has a background in renewable water—how to finance it, where to get bonds and evaluate the best financial package for CPN.
Lowman, with a master's degree in business administration, has more than 23 years experience in financial and operations management. Lowman is the director of global financial planning and analysis for MWH Global—an international civil-engineering firm that provides services to municipal and government clients for water, natural resources and energy projects.
"As a resident of Castle Pines North, I understand the challenges facing our community with regard to renewable water," says Lowman. "I want to be a part of finding the best solution for the future of our community." Lowman tackles challenges with a can-do attitude and describes himself as "focused on efficiency."
The Metro District board members include Ted Lohr, President; Bruce Thompson, Vice President; Courtney Brand, Secretary-Treasurer; and Mark Shively and Carl Lowman as directors. Three board positions open in May 2008, and elected officials will serve a four-year term.