Mixing music with passion
August 1, 2012
/
/
Comments Off

on Mixing music with passion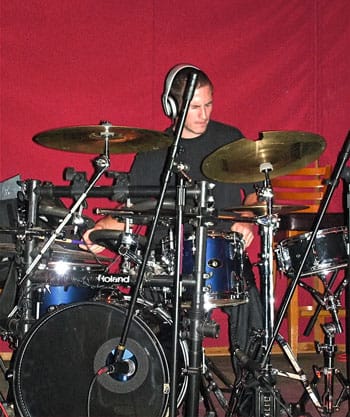 Christian Brochey is not only a talented musician, but also a master at piano rebuilding.

By Kathy Dunker with photos courtesy of Julia Brochey
Christian and Julia Brochey make beautiful music together and are spreading the wealth. Not only are the couple music professionals and private music teachers out of their home in Serena, but they are also performing at a charity event to help rebuild Colorado Springs after the fire damage.
Julia, a performer, songwriter, and a licensed educator, has been a professional singer for eighteen years and a musician and songwriter for over a decade. She also has a Masters of Education. As a child, Julia's father was a guitarist and her mother was a pianist who also studied opera and theater. Julia began performing with the San Diego Children's Theater at the age of four.
Husband Christian is an instructor of piano, drums, bass and composition. Christian began studying piano at age of four and has composed numerous pieces throughout his life. He attended the Conservatory of Music at the University of Missouri and had the opportunity to play and tour with many well known musicians and groups.
Also a piano rebuilder, Christian integrates his own custom woodworking, inlays, and designs into his rebuilding process. He now runs his own piano rebuilding and repair shop in addition to teaching and performing.
The Brochey's are parents to two children attending Timber Trail Elementary. They currently teach 60 music students of all ages out of their home based business, North Pines Music, in piano, voice, drums, guitar, and percussion. The couple recently released their second joint CD with their group Ode to the Marionette called "Sleepless Dreaming" which is getting great reviews.
The Brochey's lived in Colorado Springs for several years before relocating to Castle Pines. With a commitment to helping the Colorado Springs community, Ode to the Marionette, will be performing at a charity event later this month. The event entitled Manitou Alive, a fund raising event to assist in fire recovery effort, will take place on August 11 from 11 am until after midnight at Venue 515 in Manitou Springs.
Julia remarked, "This fall I will be performing with Opera and Beyond at a number of events including one at Children's Hospital where I will play Gretel in an abridged version of Humperdinck's opera, Hansel and Gretel. Christian and I are quite the busy teachers and musicians, but are truly enjoying working with our community and others in Colorado in an effort to share music!"
For more information about music instruction with the Brocheys, visit their website at www.northpinesmusic.com. For more information about Ode to the Marionette or to hear some of their music, visit www.odetothemarionette.com.

Julia and Christian Brochey, residents of Serena, will perform with their group Ode to the Marionette at Manitou Alive on August 11 to help with the fire recovery effort in Colorado Springs.