Mother's Day brunch at MoZaic
May 1, 2014
/
/
Comments Off

on Mother's Day brunch at MoZaic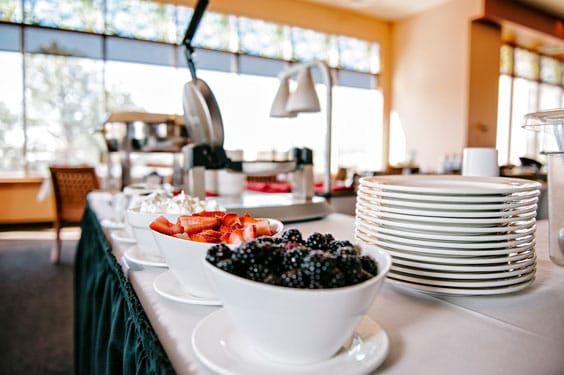 Article by Lisa Crockett; photo courtesy of MoZaic
Sometimes a good meal is worth a little time in the car. Mother's Day is this month, and a leisurely drive to the town of Palmer Lake, about 30 minutes to our south, is the perfect place to take your mom to celebrate. MoZaic restaurant, located in the charming Inn at Palmer Divide, is a lovely space – white tablecloths and fresh flowers dominate the open, airy restaurant – just right for treating mom to a special day.
MoZaic hosts a weekly Sunday champagne brunch that features traditional favorites like biscuits and gravy, made-to-order omelets and French toast. Several other menu items change from week to week to keep the menu fresh and exciting. A few things are standard every Sunday, though: prime rib and braised bison short ribs.
"We braise the short ribs in dark beer for 14 hours," said Al Fritts, who is the managing partner at MoZaic and the Inn at Palmer Lake. "They are so tender and juicy, once you eat one you can't stop."
Atmosphere is a big part of the draw at MoZaic, too. Service is attentive and unrushed. Breathtaking views of the mountains offer a spectacular backdrop to mealtime from every window. On a recent visit, I enjoyed the view so much that I was reluctant to leave. If you experience the same thing, not to worry, MoZaic is the perfect place to spend a little extra time.
"I would say that we have the best views of any restaurant on the Front Range," said Fritts. "People regularly come from as far away as Boulder, Fort Collins and Pueblo, and we want them to stay and enjoy as long as they like. We don't rush people to leave."
Of course you and your mom might already have other plans on Mother's Day. Not to worry, there are lots of wonderful choices for lunch and dinner, which would make any day seem special. Cuisine is fusion-style, combining the best elements of European and American fare – Executive Chef Kelly Shearwood is originally from England, and her creations range from sweet pea and cucumber salad to Ancho chicken breast. Fritts' dinner menu favorite is the Colorado Lamb.
"They are lamb chops that are so tasty," said Fritts. "They have a rub on them that compliments the cauliflower they are served with perfectly. It's a wonderful combination."
The Inn at Palmer Lake is also home to the Tessera Lounge, which hosts a happy hour on Tuesday through Saturday from 4 p.m. to 6 p.m. and features an eclectic list of 45 different wines. MoZaic is open Tuesday through Saturday for lunch and dinner and Sundays for brunch. Reservations are always recommended, and are required for holidays. Hours vary, so visit the website for details. The Inn at Palmer Lake and MoZaic restaurant are located at 443 S. Highway 105 in Palmer Lake.