MTV comes to CPN's Salon 188
April 1, 2009
/
/
Comments Off

on MTV comes to CPN's Salon 188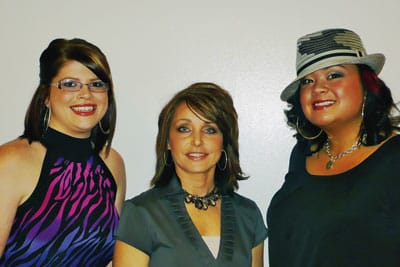 by Anthonette Klinkerman
What do MTV and Castle Pines North have in common?
An episode of the popular makeover reality show "Made." On February 24, a local contestant was brought to Salon 188 to be transformed into her alter-ego, a punk rock star while being filmed by MTV personnel for a March episode of Made.
Under the tutelage of Josh Bertrand, lead singer of local band Random Hero, the young lady took five weeks of voice lessons, and then was brought in to see Bertrand's stylist at Salon 188, Donna Wilson. Wilson has been a stylist with Salon 188 for nine years.
Wilson was in charge of styling the teen's hair and decided chocolate-cherry color with blonde "peek-a-boo" highlights underneath would create the perfect look.
In addition to Wilson, two other stylists were chosen for the makeover team. Before they began the process, aesthetician Tina Reitz waxed, tweezed and sculpted the contestant's eyebrows. Nikki Horton, airbrush make-up artist, finished off the punk rock star look with her skills and flawless artistry.
"People in the industry have to look pretty," said Bertrand when he and the teen first entered the salon.
The process took nearly five hours, before the teen was turned from an unassuming student into her punk rocker made image. She was then whisked off to compete in her high school talent show.
Salon 188 owner Micki Rychecky was thrilled to have the show filmed in her salon. The salon had already received the honor of "Best Salon" by Westword Magazine in 2008, but Rychecky was not expecting something quite as big as the request from MTV.
"We provide great service, comparable to anywhere in Denver," she said. "But this made me a little nervous."
As of press time, the show had not yet aired on MTV, and due to privacy laws, the star of the episode could not be named. A visit to www.salon188.com will provide a link to the show, plus some before and after photos of the contestant.