New chef and menu at The Social
May 1, 2015
/
/
Comments Off

on New chef and menu at The Social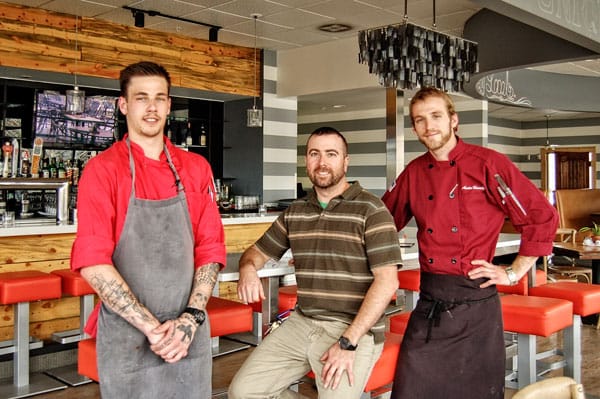 The Social is thrilled about their new chef and exciting new menu that compliments their impressive wine selection. Pictured left to right: Sous Chef Cameron Sutherland, General Manager Michael Mercandetti, and Head Chef Austin Hornsby.

Article and photo by Amy Shanahan
The Social, located in The Village at Castle Pines, has become a local favorite for friends, families and couples looking for good food and drinks and the convenience of a Castle Pines location. New owners took over the restaurant last summer and brought in General Manager Michael Mercandetti who was well known to many after having spent a number of years at The Country Club at Castle Pines.
The recent addition of a new chef and menu is the latest step in the restaurant's desire to impress its customers, both old and new. Head Chef Austin Hornsby and Sous Chef Cameron Sutherland were brought over from Denver's Jax Fish House and are excited to share their love of coast-to-coast cuisine with patrons. Hornsby is warm and personable and is looking forward to personally meeting the patrons and becoming a fixture in the community. "I want customers to know that I am happy to come out and talk with them about the food and get to know them on a personal level. I'm excited about what we are preparing and look forward to sharing my knowledge with them."
Hornsby originally hails from Florida and spent several years in San Diego, California where he perfected his craft. His new menu is creative and eclectic with an emphasis on fresh ingredients. Hornsby bakes all of his own bread including the house focaccia and brioche buns and all of the desserts are made in-house. Hornsby has a special affinity for salads and remarked, "Salads are really important because they are the first item to hit the table." Hornsby is excited to explore Colorado cuisine, including fresh fish and game and is featuring a rack of lamb and rabbit ravioli that are getting rave reviews.
The Social has numerous events planned for the coming months, including a Kentucky Derby party on May 2, a Mother's Day brunch on May 10, wine tastings, live music, and much more. The Social also has the benefit of a large separate room that is perfect for private parties, rehearsal dinners, company parties and more.
The Social is located at 872 W. Happy Canyon Road. For more information on the new menu and upcoming events, visit www.thesocialcastlepines.com.