New Fire Station at CC-20 Parker-South Metro Fire Rescue Authority Makes Recommendation
August 1, 2008
/
/
Comments Off

on New Fire Station at CC-20 Parker-South Metro Fire Rescue Authority Makes Recommendation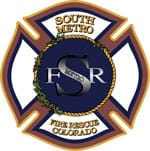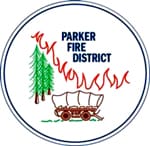 by Terri Wiebold
More than thirty concerned citizens gathered at the Castle Pines North (CPN) Community Center on August 7 to hear the Parker-South Metro Fire Authority's (PSMFRA) recommendations for improved fire and emergency medical services to the Castle Pines North community.
A new station in CPN has been the topic of discussion for several years, and the PSMFA has spent the last year extensively evaluating the service needs of the CPN area. In addition to hiring an outside consulting firm to conduct a Deployment Analysis for then-South Metro Fire Rescue (SMFR), the PSMFRA recently completed a 10-month "Station 36 Response Area Needs Analysis."
The community meeting on August 7 was a culmination of all the research, resulting in PSMFRA staff's presentation of its conclusion to recommend to its board of directors the relocation of the existing station 36 (at Castle Pines Parkway and I-25) to the new proposed location of Castle Pines Parkway and Monarch Boulevard (CC-20).
According to PSMFA chief, Dan Qualman, "We did not anticipate any community objection to building a station at this [CC-20] location because it is a commercially-zoned property. Moving the station more toward the highest concentration of calls seems to be appropriate," he said.
Most of those who attended the meeting reside in the area of Castle Pines Parkway and Monarch Boulevard (CC-20), the new proposed site for a fire station in CPN. The second largest representation was from the area of Hidden Point and Monarch Boulevard, the former proposed site for the station.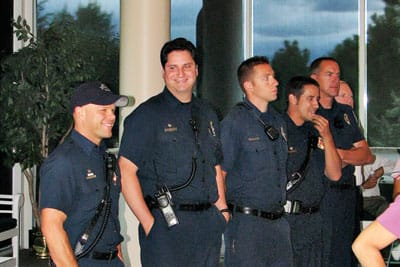 Firefighters from station 36, located on Castle Pines Parkway near I-25 in CPN, attended the community meeting about the potential relocation of the station. The crew received an emergency call during the meeting and had to leave early. (photo by Terri Wiebold)

While many in attendance objected to the proposed station relocation, community reaction has been mixed. The Castle Pines North Master Association is currently working on a community survey to collect residents' input about the new proposed location and the level of service being provided by the PSMFRA. Watch for information in community e-mail alerts, and please take a moment to make your voice heard on this important community issue.
The SMFR Board of Directors set a public hearing for October 15 at 6 p.m. at the Montessori school next to station 36 at 6:30 PM, for the station 36 issue. This will be an opportunity for public comment on the recommended location prior to the board making a final decision.
For additional information about the history of this issue or to review a timeline of events leading up to the PSMFRA's recommendation, please visit www.cpnhoa.org. To view a copy of PSMFRA's "Station 36 Response Area Needs Analysis," go to
http://www.cpnhoa.org/pages/news/articles/2008/qtr3/station36NeedsAnalysis.pdf.