New hospital at Castle Rock Adventist Health Campus opens August 1
July 1, 2013
/
/
Comments Off

on New hospital at Castle Rock Adventist Health Campus opens August 1
On August 1, Centura Health will open the doors of its new hospital at Castle Rock Adventist Health Campus, located off of Meadows Parkway west of I-25 in Castle Rock.

By Elizabeth Wood West; photos courtesy of Castle Rock Adventist Health Campus
The striking 212,240 square-foot facility joins the campus' existing emergency room, Flight for Life helipad, and 60,000 square-foot medical office building. The full-service hospital features 50 acute care patient beds, operating suites, intensive care unit, cardiac lab, sleep lab, Manna restaurant, and community garden. The hospital offers extensive medical services in the areas of orthopedics (including joint replacement, sports medicine, and physical therapy), neurosciences (including neurosurgery and neurology), cardiology, gastroenterology, radiology, general surgery, and pediatrics. Women's health services include state-of-the-art labor and delivery rooms, a level II neonatal intensive care unit, digital mammography, and DEXA bone-density scanning.
The new medical office building has an ambulatory surgery center for less acute surgeries that do not require inpatient support and resources, and an outpatient laboratory. Tenants include cardiologists, surgeons, OB/GYNs, gastroenterologists, pediatricians, physical therapists, oral/maxillofacial surgeons, and pediatric dentists.
Castle Rock Adventist Health Campus will offer wellness programs and have an education center as part of its health awareness and community outreach philosophy. The programs include running clubs, healthy cooking classes, community garden plots, and free bicycle rental for local rides.
Christine Alexander, director of marketing and public relations for Castle Rock Adventist Health Campus said, "We see our role in the community as not just providing quality medical services, but also promoting health and wellness. We named our 50-acre campus 'Castle Rock Adventist Health Campus' to reflect our vision that, in addition to acute and outpatient medical services, we will also provide numerous programs and services to promote health and whole-person living. This is just the start and we're excited to partner with the community on other programs and services," she said.
To learn more about the Castle Rock Adventist Campus, visit www.castlerockhospital.org.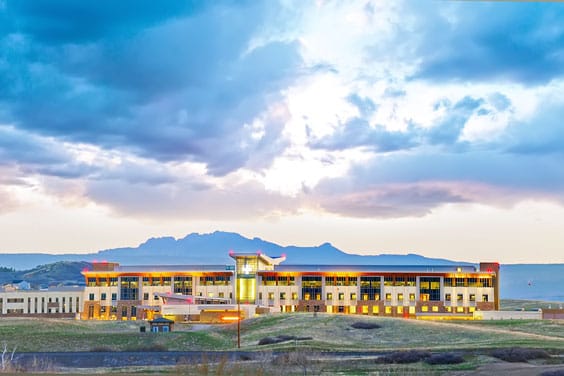 Centura Health's new hospital opens on August 1 at Castle Rock Adventist Health Campus near The Meadows development in Castle Rock.