New in-home care business brings personal experience
December 1, 2013
/
/
Comments Off

on New in-home care business brings personal experience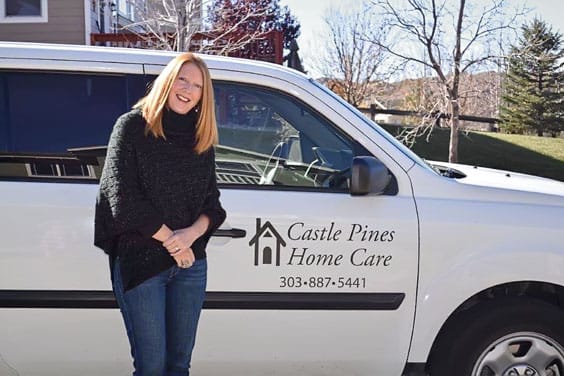 Castle Pines resident Kara Olsen, owner of Castle Pines Home Care.
By Elizabeth Wood West; photo courtesy of Kara Olsen
Long-time Castle Pines resident Kara Olsen understands first-hand the frustration family members can have when trying to find in-home caregivers for their elderly and/or disabled loved ones.
When Olsen's father was diagnosed with ALS (amyotrophic lateral sclerosis, often referred to as "Lou Gehrig's Disease"), she and her family had trouble finding good, reliable in-home care. As a result of her experience, Olsen started her own in-home care business, "Castle Pines Home Care" (CPHC).
Olsen graduated from the University of Northern Colorado with a bachelor of science degree in rehabilitation counseling and a minor in sociology. She worked as a social worker for fifteen years, assessing the care needs of elderly, blind, and disabled clients. "I supervised and coordinated care between non-ski
lled care and skilled care agencies, making sure the clients were safe and receiving proper care, so they could remain in their homes for as long as possible. I also helped clients and their families find assisted living placements, assisted with home modifications, and procuring durable medical equipment. In addition, I worked with medical staff discharging clients from hospitals and rehabilitation centers, to make sure they had proper home care services in place before they returned home," explained Olsen.
Olsen said, "I thought if I am having this problem with my background and resources, that probably a lot of other people are just as frustrated as I am. I want to provide the same quality care that I would want for my father or any member of my family."
CPHC is a non-medical agency that provides in-home care services to elderly and disabled clients in Douglas, Arapahoe, Elbert, Denver, and Jefferson counties. These services include homemaker duties, assistance with bathing, personal care, meal preparation, laundry, medication reminders, shopping, and assistance getting to doctor appointments.
Olsen added, "We are always looking for good people who like working with the elderly and disabled populations." CPHC is located at 8216 E. Park Meadows Drive in Lone Tree. For further information, call 303-887-5441 or visit www.castlepineshc.com.