"New to You" Purse Exchange Supports Warren Village
April 1, 2007
/
/
Comments Off

on "New to You" Purse Exchange Supports Warren Village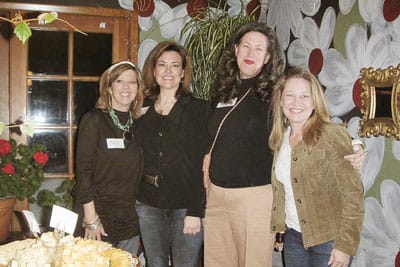 New to You Purse Exchange for Warren Village. Pictured from the left, Mary Boettcher, Kim Bevill, Tammy Abramovitz and Tisa Meisel. Photo provided by Tammy Abramovitz.


by Elean Gersack
Women and children at Warren Village in Denver are looking for a second chance. Since 1974, they have been getting one. A unique family community created to help motivate low income, single parents move from public assistance to personal and economic self-sufficiency, Warren Village offers subsidized housing, on-site child care, case management, and education or job training to prepare residents for new opportunities and fulfilling lives.
In late January, local women swapped purses to raise money for this cause. Tammy Abramovitz and friends gathered for an evening of fun, laughter and hope. Each woman brought a new or gently used purse, along with a $25 donation to Warren Village.
A portion of the proceeds raised came from a silent auction for two high end purses. Mary Boettcher, a friend of Abramovitz's, sold Silpada Jewlery during the event and donated 100 percent of her profits – nearly $200 – to the cause. When the evening was over, everyone left with a "new" purse and $1200 was raised for Warren Village.
Abramovitz is a regular volunteer at Warren Village. In addition to offering her own time, she models volunteerism to her young children by bringing them along once a month to help care for children while moms take life skills classes. "My boys love spending time with the children at Warren Village," said Abramovitz. "Over the months, they have really gotten to know the kids and look forward to seeing them each month."
Warren Village is located in the heart of Capital Hill in Denver at 1323 Gilpin Street. If you would like to make a contribution, sponsor a program or become a Warren Village volunteer, please call 303-320-5052 or visit www.warrenvillage.org.