Not just the girl next door; teen pursuing her music dreams
October 1, 2011
/
/
Comments Off

on Not just the girl next door; teen pursuing her music dreams
Music hopeful and every-day Castle Pines teen Maddie Krawiec takes a break during a Los Angeles studio recording session cutting her first single, "Being Me."
By Tricia Wackerly with photos provided by Judy Krawiec
Sixteen-year-old Maddie Krawiec's singing career seems to be headed in a direction she could only once dream about. This past July, the Rock Canyon High School sophomore flew to Los Angeles to record her first single, "Being Me."
At a young age, Maddie inherited her love of music from her grandmother. When Maddie was eight, her grandmother, who she was extremely close to, passed away. Maddie channeled her grief into her singing. "It just made me feel connected and closer to my grandmother," confided Maddie. "I admired her so much. We had a very special bond."
Having lived in five different states by the time she was age 10, Maddie, an only child, became accustomed to change. The family moved to Castle Pines in 2005 and Maddie attended Timber Trail Elementary, Rocky Heights Middle School, and ultimately Rock Canyon High School. Amidst all the change, one thing remained a constant in Maddie's life – her music.
Maddie began working with a vocal coach, although initially her vocal coach was skeptical about providing lessons for a voice that was still maturing. According to Maddie's mom, Judy Krawiec (owner of Salon 188 in Castle Pines), Maddie's raw talent was convincing. "Maddie is special, and she really wants to excel," said Kraweic. "She strives for excellence."
In the fall of 2009, Maddie attended a casting call in Denver for a competition held in Florida. Along with 10,000 others, Maddie auditioned in three categories: acting, singing and modeling. Maddie won the singing portion and was one of 17 chosen in the Denver casting call to compete in the competition. There, she competed along with 880 others from across the U.S.
In the singing competition, Maddie was judged by music industry professionals, including a consultant to Capital Records and Damon Sharpe Music. Performing an Italian Opera, Maddie won the singing competition, a bold and unique choice from someone her age. Her prize – a three track demo – was recorded in September, 2010.
It wasn't until Krawiec received a call from John Degrassio, a renowned singer and consultant for Capital Records, that Maddie got her big break. Degrassio set up a meeting with Jason Davis, a consultant for Capital Records who has worked with Taylor Swift, Kelly Clarkson, Michael Jackson and more.
In July, standing in Davis' New York City office, Maddie performed Pink's "Glitter in the Air" a cappella. Davis liked what he heard and connected Maddie to The Jam, a songwriter/producer team that has worked with Lady Gaga and more. That same month, Maddie recorded her first single, "Being Me" in Los Angeles.
"Being Me is about being yourself and not caving to the pressures to be anything other than who you are," said Maddie. Maddie really connected with the song and the lyrics, and admits it is her favorite song to sing in public.
The hard work continues for Maddie, as she is currently working to prepare for the song's release debuting on iTunes in October. She manages to balance her singing with maintaining straight As and swimming butterfly on the Rock Canyon swim team. In her spare time, Maddie babysits and dog sits in the Castle Pines community and plays with her two Bichon Frises, Riley and Zoey. You might even find her performing an impromptu song or two at local Italian hot spot, La Dolce Vida.
You can follow Maddie on Facebook by her stage name Maddie Kae, or listen to her soon-to-be released single "Being Me" at
www.reverbnation.com/maddiekae. She also plans to launch "365 days of Pop Music," which can be seen on YouTube.
"I've met so many wonderful people on this journey. Everyone has been so kind and supportive and I'm very grateful for the experience," said Maddie.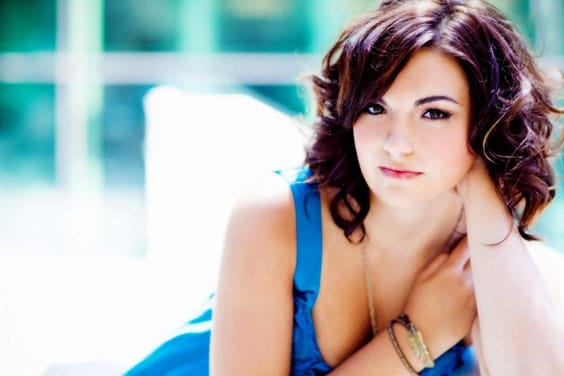 Sixteen-year-old sophomore at Rock Canyon High School, Maddie Krawiec, recently recorded her first single, "Being Me," set to debut on iTunes in October.