Oak Hills neighborhood a haven for horse lovers
April 1, 2016
/
/
Comments Off

on Oak Hills neighborhood a haven for horse lovers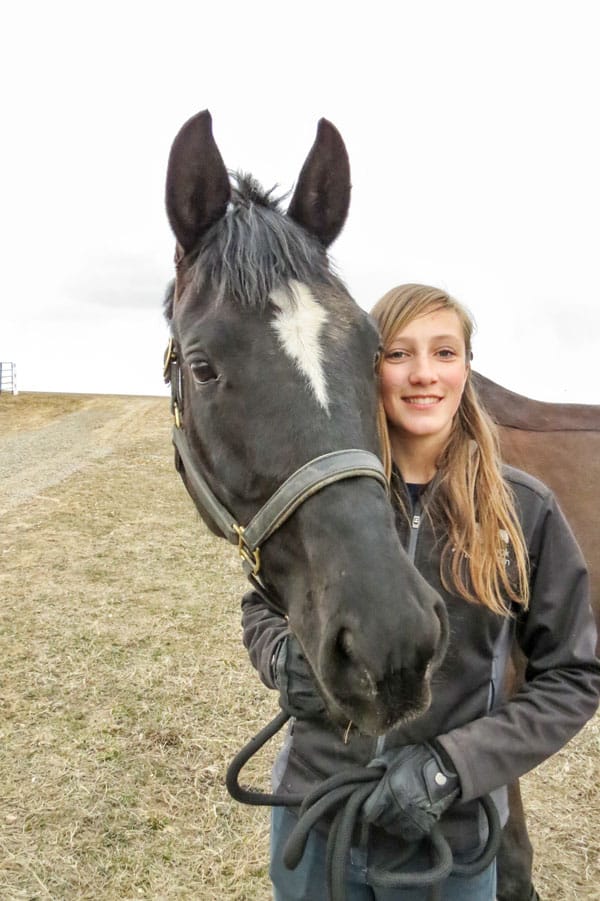 Ashlyn Brown and her German Warmblood jumping mare Black Pearl.

Article and photos by Christy Brown
Colorado … the "wild west." One of the first images to come to mind is the horse. The equine species, having evolved more than 50 million years from a once four-toed creature to the four-hooved magnificent structure of power and beauty that we know today, is an integral member of many a Castle Pines family.
Freshman at Rock Canyon High School Ashlyn Brown shares her life with four of these magnificent beings. A resident of Oak Hills, Ashlyn lives with her family on a 5-acre lot in the equestrian community. The Brown family barn is home to three trail riding horses and a fourth horse is stabled at Flintwood Farm in Parker. It is at this training barn that Ashlyn and her German Warmblood, a Hanoverian-Trakehner cross mare named Black Pearl (Pearl) train in English-style riding and jumping, under the instruction of Millbrook Equestrian riding school.
The whole Brown family enjoys trail riding in the western saddle, but Ashlyn also competes in English discipline riding and jumping competitions. She began jumping in the English saddle at the age of nine when her family lived in North Carolina. She and Pearl now participate in shows and competitions within the Colorado Hunter Jumper Association (CHJA). CHJA hosts major events at the Colorado Horse Park in Parker. Smaller competitions are regularly hosted by various training barns in the greater southern Denver metropolitan area. English saddle events are typically divided into "hunter," in which a jumping course is judged based on equitation (a rider's ability to ride correctly), and "jumper" in which a jumping course is timed.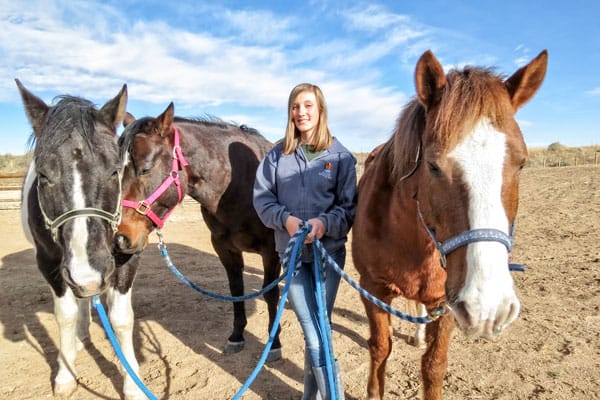 Trail horses Dakota, Cheyenne and Goldrush along with 14-year-old Oak Hills resident Ashlyn Brown.
When not competing, Ashlyn enjoys the relaxed environment of her equestrian community and takes advantage of the bridle paths for trail riding throughout Oak Hills, Surrey Ridge, and Glendale Open Space (aka: the dog park.) Ashlyn's family's resident horses – Dakota, Goldrush and Cheyenne – are quite familiar with this collection of leisure trails.
Whether on a relaxed trail ride in Castle Pines or working with Pearl at the training barn, Ashlyn is in the company of her best friend – the horse. She spoke from the heart when she said, "Riding horses has taught me teamwork and friendship on a whole different level. The rider does not boss the horse around with random hand and leg signals. The rider communicates with her partner, the horse, in a language without words. Being able to share my life with horses means the world to me. I honestly cannot imagine my life without them."