Goodnight to the library; saying farewell to an old friend
April 1, 2016
/
/
Comments Off

on Goodnight to the library; saying farewell to an old friend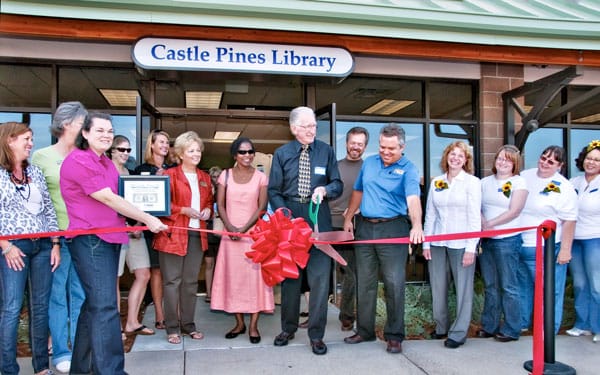 Submited by Douglas County Libraries; photo by Tim Gamble
Fact not fiction – the new library in Castle Pines opens in April. Saying farewell to the old library location will be a melancholy yet upbeat occasion as Douglas County Libraries gets ready to open the first of three new libraries in Douglas County.
At 4 p.m. on Friday, April 8, with a registration-only program, "Goodnight Library" will be a celebration full of fun for the community. Join in for a light snack, special storytime for kids, crafts, and a farewell to the building. Pajamas are encouraged, but not required.
The new library is incredible beyond words. With more than 13,000 square-feet of library space on two floors, patrons can enjoy perusing the state-of-the-art library. The first floor has the adult and young adult collections, plus a lounge area complete with laptop vending. Vending is done via a machine and is self-serve check out of a Mac or PC laptop for use in the library only. Some space on the first floor will be dedicated for use by the City of Castle Pines.

Amazing views of the Front Range can be seen from the northwest corner of the second floor outdoor patio. Furnished with Adirondack chairs and small table and chair groupings, the patio features a covered area for shade. The second floor will house media and children's collections. Another remarkable feature is a fireplace in the protected southeastern corner.
The library has a drive-through book drop, a community event space, three public conference rooms, a study room, and a dedicated storytime and kids' area.
Grand opening festivities of the new library will be at the new location at 360 Village Square Lane on Thursday, April 21 from 10 a.m. to 7 p.m. The Ribbon Cutting will take place at 10 a.m. and a family kickoff at 4:30 p.m. No registration is required and the more, the merrier.
For those who are not able to attend the grand opening celebration, there will be more surprises on Saturday, April 23 – including special storytimes at 10 a.m., noon and 2 p.m.
For information about Douglas County Libraries visit www.douglascountylibraries.org.