OLLI South enrolling for spring classes
February 1, 2010
/
/
Comments Off

on OLLI South enrolling for spring classes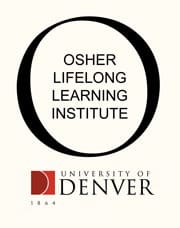 by Carin R. Kirkegaard
The Osher Lifelong Learning Institute (OLLI) spring term begins March 29 and is currently enrolling life long learners in a variety of classes. Spring classes will run through May 20. (To learn more about OLLI South, visit www.universitycollege.du.edu/olli/.
Spring 2010 Classes
America and the New Global Economy
The Birth of the Modern Mind: The Intellectual History of the 17th and 18th Centuries
Canyons of the Colorado River System
Experiencing Rome: A Visual Exploration of Antiquity's Greatest Empire
The Genius of Orson Welles
The Great Ideas of Psychology
How to Read, Understand and Enjoy James Joyce's Ulysses
Letter to America
Secrets of the Rocks: A Geological Odyssey (with and emphasis on Colorado)
The Road Less Traveled: An in-depth look at travel destinations
The Versailles Treaty: How it shaped the 20th Century
The Words we live by: The United States Constitution
For an overview description of each class visit, www.universitycollege.du.edu/olli/, click on the OLLI South icon on the left and then class descriptions. All OLLI South classes are held at Valley View Christian Church located at 11004 Wildfield Lane (near South Santa Fe Drive & Titan Parkway).
There are no academic or experience qualifications. Members may take part in as many activities as they desire the only requirement is for members to be at least 50 years old and have a desire to pursue lifelong learning.