Phase two of Rueter-Hess Reservoir Recreation Master Plan begins
February 1, 2016
/
/
Comments Off

on Phase two of Rueter-Hess Reservoir Recreation Master Plan begins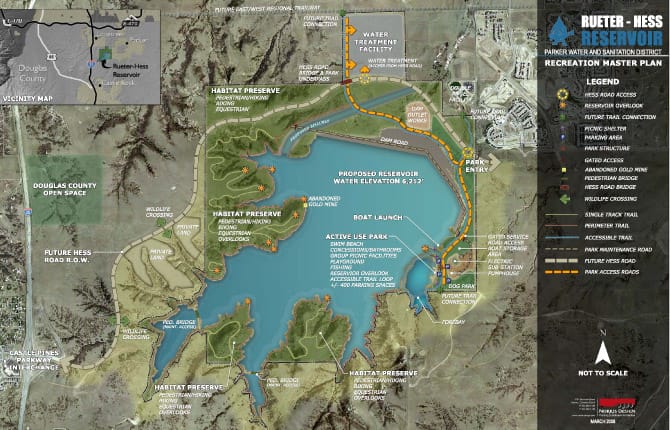 Information submitted by Parker Water and Sanitation District
The Rueter-Hess Recreation Authority is again seeking input from the public to develop the Rueter-Hess Reservoir Recreation Master Plan. The process began in November with an online survey that garnered nearly 4,000 responses. Phase two of the planning process will now include developing concept alternatives for public feedback in February. Ultimately, the goal of the master plan is to develop a range of recreational opportunities in and around the reservoir while safeguarding the quality of water in the reservoir and preserving the natural environment of the site.
There are several opportunities for the public to give input on proposed alternatives. Everyone is welcome to stop by any of the locations to see the alternatives, talk with landscape architects, and share ideas and opinions:

Wednesday, February 17, Parker Town Hall, 20120 Mainstreet, Parker, 5 p.m. to 7 p.m.
Saturday, February 20, Lone Tree Recreation Center, 10249 Ridgeview Circle, Lone Tree, 10:30 a.m. to 12:30 p.m.
Saturday, February 27, Castle Rock Recreation Center, 2301 N. Woodlands Blvd., Castle Rock, 10:30 a.m. to 12:30 p.m.
People who wish to view the alternatives and offer feedback but cannot make it in person may view them online. Concept alternatives with an online survey will be open February 19-27 at pwsd.org.
Feedback and comments from the second phase of outreach will be compiled and a preferred option will be presented at a public meeting in late spring or early summer. The goal is to have a final preferred master plan, projected budgets, and a timeline for implementation by mid-summer 2016.
Learn more at the Parker Water and Sanitation District website at pwsd.org.