Pickleball obsession in the Village
November 1, 2019
/
/
Comments Off

on Pickleball obsession in the Village
Advanced mixed doubles first and second place: Rich Nipert and Abeer Miller.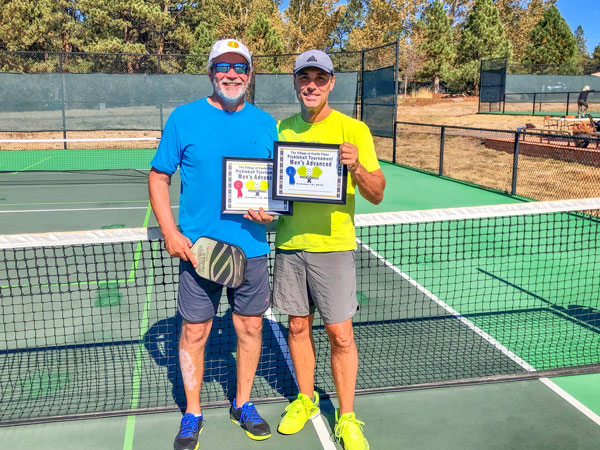 Men's advanced doubles first and second place: Josh Reel and Brent Miller.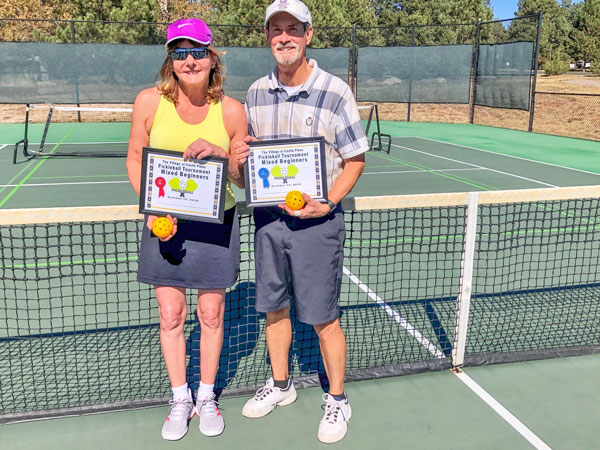 Beginner mixed doubles first and second place: Kirk Bergner and Dana Smith.


By Celeste McNeil; Photos courtesy of Beverly Carr
Recently, pickleball enthusiasts held a round-robin style tournament in The Village at Castle Pines. Two dozen players gathered on a sunny Saturday morning to socialize and play the fast-growing racquet sport. Event organizer Beverly Carr was pleased with the numbers. Many friends new and old joined the fun, playing doubles, with advanced players in the morning and beginner players competing in the afternoon.
Using painter's tape to transform a couple of tennis courts for tournament play, Carr said many residents in The Village have requested an additional four pickleball courts to be added to the existing neighborhood amenities. Carr started the local pickleball movement a few years ago when she taught a few friends how to play. The sport quickly gained new players as friends and neighbors were recruited to join the fun.
Abeer Miller was one of the first to develop a pickleball passion. "I'm obsessed with pickleball!" she said. Miller and Carr have organized many opportunities for pickleball play. They hold clinics to teach new recruits the rules of the game, host drop-in court times on Monday evenings for advanced players, and reserve Tuesday evenings for beginners looking to practice.
Large enough to organize by ability, pickleball in The Village is divided into roughly 30 advanced, 20 intermediate, and 15 beginner players at any given time. The regular weekly court time attracts about 30 "regular" players. Frequently held clinics hosted by Carr and Miller hope to continue increasing the ranks.
The common theme at any pickleball playtime is fun. Everyone involved reiterated the social aspect of the game; "It's just social and really fun." Adding to the enjoyable atmosphere, Carr hosted three summer social events this past year. One summer event boasted over 65 in attendance!
Congratulations to the winners of the second annual Village pickleball tournament: Advanced mixed doubles winner: Rich Nipert; second place: Abeer Miller. Mens advanced doubles winner: Josh Reel; second place: Brent Miller. Beginner mixed doubles winner: Kirk Bergner; second place: Dana Smith.