Pine Ridge HOA Receives National Firewise Recognition
December 1, 2008
/
/
Comments Off

on Pine Ridge HOA Receives National Firewise Recognition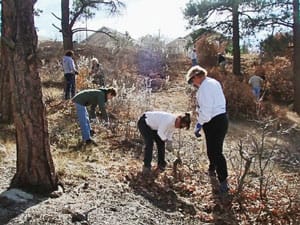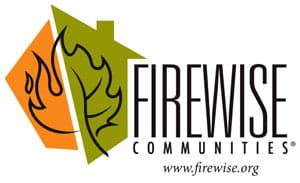 Community volunteers work together to remove dead scrub oak in the open space near Pine Ridge.
(photos provided by Barb Saenger)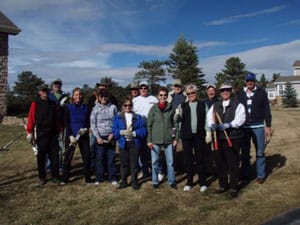 Pine Ridge community volunteers left to right:? Dan McCracken, Loyd Saenger Kathy McCracken, Don VanPutten, Sondra Barry, Gail Murray, Gene Owen, Michael Mauck, Marilyn Emblen, Bill Gatrix, Char Nelson, Don Hahn, Sue Hahn, Frank Kellen – and not pictured Mike Czerwinski and Barb Saenger.


by Terri Wiebold
The Pine Ridge neighborhood of Castle Pines North recently joined the nearly 400 other sites around the United States that have received national recognition from the National Fire Protection Agency (NFPA) as a Firewise Community/USA for taking proactive wildfire safety measures in the community.
The National Firewise Communities/USA program is a multi-agency effort designed to reach beyond the fire service by involving homeowners, community leaders, planners, developers, and others in the effort to protect people, property, and natural resources from the risk of wildland fire – before a fire starts. Its goal is to reduce loss of lives, property, and resources to wildland fire by building and maintaining communities in a way that is compatible with natural surroundings.
Guided by the leadership of Pine Ridge residents Barb Saenger and her husband Loyd, the HOA has been working with Douglas County fire mitigation specialists, state forestry district personnel, The Ridge golf course, and the City of Denver parks department to accomplish significant reduction of scrub oak that encroaches in the areas in back of the homes in Pine Ridge.
In 2007, the Colorado State Forest Service awarded Pine Ridge HOA a federal grant for more than $16,000 for its fire mitigation project. As part of the grant process Saenger developed a community-wide protection plan (CWPP) that included, among other things, a community risk assessment and action plan, as well as an implementation and management schedule for the Pine Ridge mitigation project.
In November, Pine Ridge residents volunteered their time, working to cut back dead scrub oak in the 50-foot defensible zone from the edge of Pine Ridge property lines into the?22-acre open space owned by the Pine Ridge HOA. This met Pine Ridge's final requirement to become a Firewise Community/USA.
"The work we've done in our open space is getting noticed in a big way," stated Saenger in a call for volunteers to help in the project.
According to Saenger, "They [volunteers] all worked so hard and contributed so much that we actually went beyond the defensible zone and cleared more of the 22-acre open space than we had originally anticipated. What a great effort."
According to NFPA Firewise Communities/USA Support Manager Michele Steinberg, Pine Ridge is the tenth Colorado community to become nationally recognized.
"The work to remove flammable vegetation not only helped Pine Ridge become safer from wildfire, but it also made their common areas more visually appealing, easier to walk through, and more friendly to desirable animal and plant species," said Steinberg.
Congratulations to Pine Ridge on this outstanding achievement. For additional information about Pine Ridge HOA's fire mitigation efforts, contact Barb Saenger at Contact by email .