PN Residents Gain Easier Access to Denver RTD Light Rail to Begin Service from Lincoln Avenue in November
October 1, 2006
/
/
Comments Off

on PN Residents Gain Easier Access to Denver RTD Light Rail to Begin Service from Lincoln Avenue in November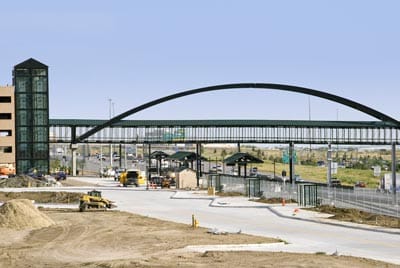 by Terri Wiebold
Regional Transportation District's (RTD) long-awaited Southeast Corridor Light Rail construction is complete, and trains are scheduled to begin transporting passengers on November 17. CPN residents can take advantage of this service from as close as Lincoln Avenue and I-25. Taking the train could help CPN residents save on time and fuel, make commuting easier, more economical and more pleasant.
"Being a student at the University of Colorado at Denver, I commute downtown five days a week. My school offers discounted rates for RTD services, but the current light rail stations are so far out of my way that I end up driving all the time," said Daniel's Gate resident Courtney Kiefer. "The new light rail line will make it a lot easier to get to school, and I won't need to worry about being late to class or paying premium prices for a parking space."
Early planning for the Southeast Corridor Light Rail began in 1999 when the Colorado Department of Transportation (CDOT) and RTD developed a study about the environmental impacts as well as the need and feasibility of implementing this service. Public hearings were scheduled to receive feedback from communities located on the T-REX corridor.
"We look forward to cutting the ribbon on what we know will be a highly successful line that will provide a faster and much more reliable trip to millions of passengers every year," said RTD General Manager Cal Marsella. "We are very proud to complete yet another light rail line within budget, and in this case nearly two years ahead of the originally projected schedule."
The light rail leaving from Lincoln Avenue will stop at County Line, Dry Creek, Arapahoe at Village Center, Orchard, Belleview, Southmoor, Yale, Colorado, University of Denver, Louisiana, Pearl along I-25, and Dayton along I-225 before joining other light rail routes at Broadway and I-25.
The station will provide 1,734 parking spaces free of charge. Both the station and multi-level parking garage are located on the west side of I-25 north of Lincoln Avenue on Park Meadows Drive. A covered pedestrian bridge links the west side of I-25 with the east side at San Luis Street where Call-n-Ride service is available.
Join RTD on November 17, 2006 at 11 a.m. for the grand-opening celebration of the Lincoln Station.
For more details about the celebration, or to learn more about the Light Rail Train System, go to www.southeastlightrail.com.
For information on RTD, visit www.rtd-denver.com.