RHMS archery program right on target
February 1, 2014
/
/
Comments Off

on RHMS archery program right on target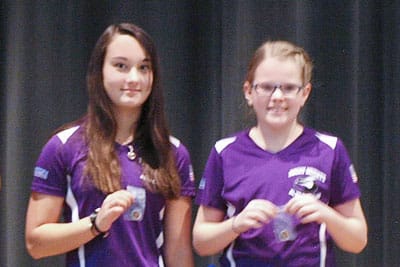 RHMS students Shayna Smith and Emily Wilson competed in a nationwide archery tournament and tied for first place!. According to Smith, the key to being successful at archery is "being calm, focused, having a good attitude, having fun, and enjoying what you are doing!"
By Amy Shanahan; photo courtesy of Dorothea Morrow-Smith
In only its second year at Rocky Heights Middle School (RHMS), the Archery Club has grown in popularity and the students are mastering their skills. Language arts teacher Rodney Graham and social studies teacher Dave Callaway oversee the program and have put in countless hours to make the club what it is today.
At the start of the school year, students were able to submit applications to join the club. Due to the popularity and number of applications, the club members were chosen via lottery, and approximately 75 students will participate in the club this year over the course of two semesters. The club started due to a $10,000 grant from the Easton Sports Development Foundation, which sponsors the Olympic Archery in Schools (OAS) program. OAS is intended to promote archery and develop future Olympic team members.
The OAS recently sponsored a mail-in tournament which RHMS competed in with schools from around the country. Each competitor shot 36 arrows for a total of 360 points. RHMS was proud to sweep the top six spots for the girls division.
Sixth grade student Emily Wilson and seventh grade student Shayna Smith tied for first place. Smith started with the club last year and worked with her coaches over the summer to improve and refine her technique. "The coaches are good at explaining technique and demonstrating proper form," remarked Smith. "They have a great passion for the sport and they've taught me not to let one bad shot ruin the rest of the round."
Graham and Callaway run archery classes for elementary and middle school students and for community members every Sunday.
For more information about the program, visit www.archery.rockyheights.org.