Ride across America comes through The Ridge at Castle Pines; Governor Ritter joins the ride
August 1, 2010
/
/
Comments Off

on Ride across America comes through The Ridge at Castle Pines; Governor Ritter joins the ride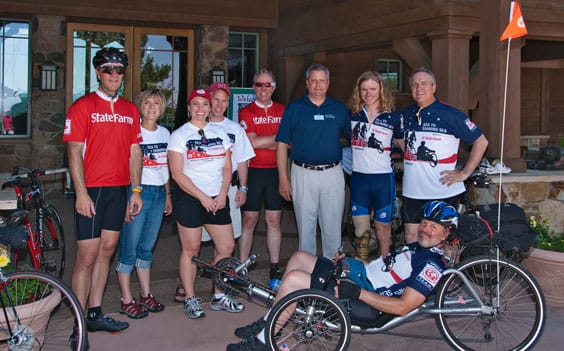 General Manager Mike Henritze, several volunteers, and Sea to Shining Sea riders had a good time at The Ridge rest stop.


Article by Tracy Dudley with photos by Tim Gamble
A group of athletes comprised largely of injured Iraq and Afghanistan veterans left their west-coast starting point at the Golden Gate Bridge on May 22 on a journey that would take them across the nation to their final east-coast destination, Virginia Beach, on July 24.
On June 18, the group stopped in the Castle Pines neighborhood, as The Ridge Golf Course in Castle Pines North hosted a rest stop for the "Sea to Shining Sea" bicycle ride across America.
Mike Henritze, general manager at The Ridge at Castle Pines, was excited to be a part of such an important endeavor: "We were just happy to help facilitate such a great cause," said Henritze. "We hosted a rest area and provided refreshments, shade, and companionship."
The inaugural Sea to Shining Sea bicycle ride is World T.E.A.M. Sports longest bike trek across America. The mission of the ride is to honor the courage of our service men and women, the strength of the American spirit, and challenge perceptions of how we view athletes.
The ride spanned 63 days with 4,000 miles of cycling through deserts, mountains, and historical landmarks across the nation. Riders visited military bases, interacted with veterans and civilians, and spread hope for a fully-inclusive society. These courageous service men and women wanted to demonstrate by example and inspire all people, disabled or not, to live active and enriched lives.
For more information about the ride, visit www.s2ssbikeride.org.
Please be sure to visit the Castle Pines Connection photo album to view the beautiful photo album of the veterans riding through The Ridge.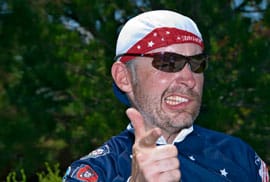 "Next year, I wanna see you join us!"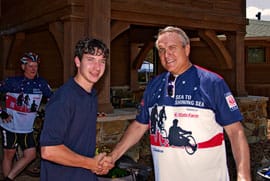 CPN teen Jeremy Gamble meets Governor Ritter at the event.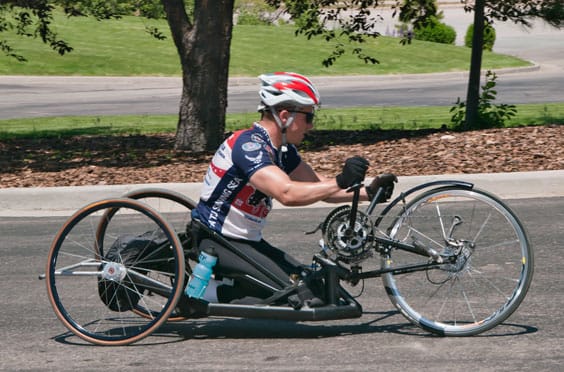 Many of the athletes participating were disabled veterans.