Rock Canyon parents and teachers rock the night away to raise funds
March 1, 2019
/
/
Comments Off

on Rock Canyon parents and teachers rock the night away to raise funds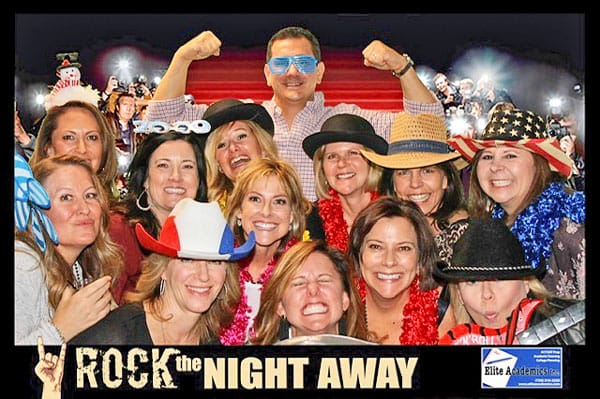 The "Rock the Night Away" committee, many of whom are members of the 80108 community, made the fundraiser for RCHS the success it was.
By Jana Seal, RCHS intern writer; photos courtesy of RCHS and Jana Seal
On February 9, Rock Canyon High School (RCHS) held a parent and teacher date night fundraiser for teacher grants and the After-Prom party, put on by the Rock Canyon Community Alliance at the Mike Ward Maserati dealership in Highlands Ranch. The fundraiser, "Rock the Night Away," included a silent auction, food from Cloud Nine Catering and Smallcakes Cupcakery and Creamery, as well as a live rock band and a photo booth.
"The goal is to raise money, but more importantly to host an event that welcomes all Rock Canyon parents and builds a strong community. Our community alliance builds momentum that we hope to grow every year to bring the community together," Rock Canyon Community Alliance President and event chairperson Heidi Wing said.
"The event was the primary fundraiser for After-Prom, which provides prom attendees a fun and safe place to go post-dance. Prom nights are typically the most dangerous night of the year for teens, and the After-Prom event can literally save lives. According to the Center for Disease Control, one in three alcohol-related teen traffic fatalities occurs in the peak of prom season," RCHS Spanish teacher Christina Geis said.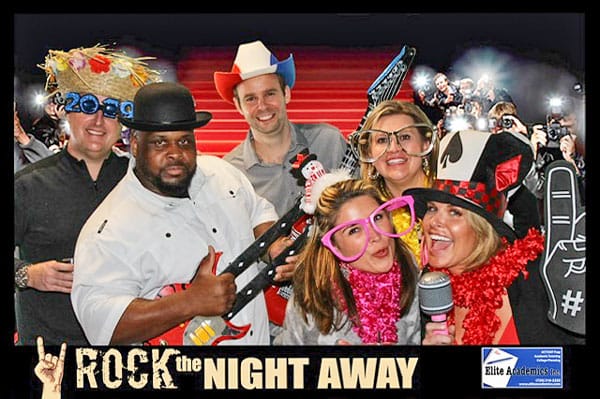 Members of the band and 'Rock the Night Away' attendees take a moment to enjoy the photo booth at the RCHS fundraiser February 9.
The walls, adorned with rock and roll themed decorations, were lined with Maseratis and RCHS parents and teachers scanning the profusion of items and packages up for auction. Among the most sought after items were a Denver Broncos football autographed by Phillip Lindsay #30, a four night trip to the winner's choice of over 20 locations, and a signed photo of Denver Nuggets up-and-comer Nikola Jokic #15.
"If it was not for our sponsors, it would be very difficult to put on an event of this caliber for the very low price of $50 per person. Our goal is to keep the cost low so that more of the community will attend and participate. The more the community is involved, the more revenue we will have to support grants that benefit all students at RCHS and support After-Prom," RCHS Volunteer Coordinator Karen Brankin said.
The first teacher grant check has already been presented, so the funds are already hard at work!