March 1, 2019
/
/
Comments Off

on The "buzzing" bee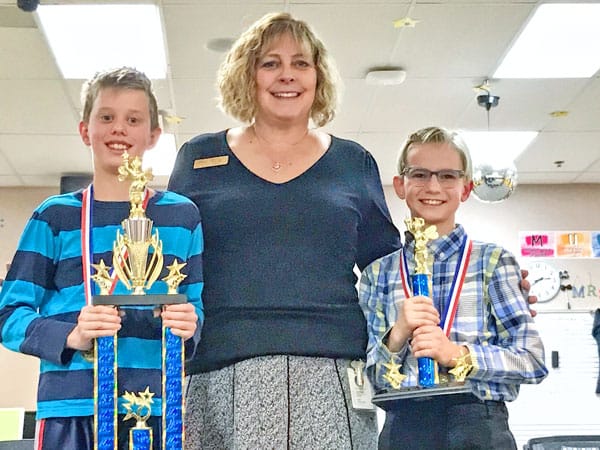 Proud Principal Michele Radke presented winning spelling bee awards to Martin Black (left) and Blake Miller (right).

By Julie Matuszewski; photo courtesy of Melanie Christensen
Prickliness: n the quality of being covered with prickly thorns or spines. P.R.I.C.K.L.I.N.E.S.S. This was the winning word buzzing around Timber Trail Elementary (TTE) on January 16 as the school hosted its 16th annual spelling bee of TTE fourth- and fifth-graders. Fifth-grader Martin Black proved victorious once again this year with his second consecutive win. Fourth-grader Blake Miller came in strong as runner-up spelling "A.C.H.I.E.V.E."
Each year, thousands of schools participate in the National Spelling Bee. The purpose of a spelling bee is to help students improve their spelling, increase their vocabularies, learn concepts and develop correct English usage that will help them all their lives.
TTE has participated in the annual spelling bee since the school first opened its doors to students. The bee process begins in December with a 30-word written test given by homeroom teachers. The bee coordinator then invites the top spellers to advance to the school's oral bee. Third-grade teacher Kimberly Jester has been TTE bee coordinator and pronouncer ever since she can remember. Using the "2019 Pronouncer's Guide" provided by the Scripps National Spelling Bee, Jester and judges Michele Radke, Tara Allen and Michelle McCluskey announced, listened and looked for clarity among the 58 words announced. Words from that list progressed from easy to difficult and included "comrades," "plodding," and "scaffolding."
Seventeen TTE students participated in the school bee. To fully prepare for the bee, students were given a grade-specific word list to study with words varying in degree of difficulty. Black admitted he was nervous at first, but once he got on stage his butterflies went away. Black said the bee was a great experience and he encouraged fellow students who will compete next year to think of it as a fun game. He said, "Then it's no stress if you get out because you made it there, and that's all that counts."
The District Spelling Bee was held on Saturday, February 2 in Castle Rock. Black was one of 83 elementary and middle school students participating. A big congratulations to all of TTE's buzzing bee participants!