August 1, 2009
/
/
Comments Off

on Rock Slide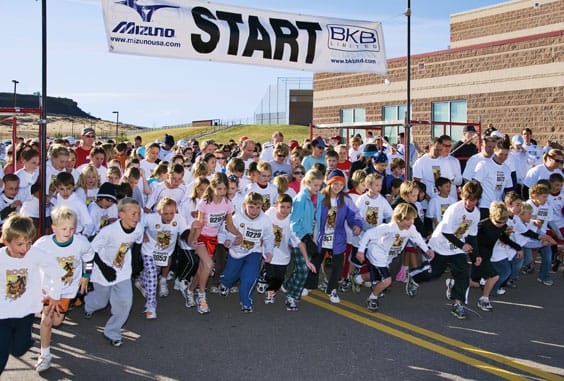 With hundreds of participants from eight local schools, the Rock Slide remains a highly anticipated community event. The race raises funds for local participating schools through advertising sponsorships and provides local businesses a unique venue to reach customers.
Founded on promoting the importance of healthy living for children and families, the Rock Slide is an opportunity for students to train and participate in healthy living challenges at their school. After months of helping the kids prepare for the race, teachers and school staff cheer the kids on alongside with family and friends the day of the event.
The 5K-charity fun run will be held November 14 at Rock Canyon High School. As is tradition, the Douglas County Kiwanis Club will be partnering with the Rock Slide, but according to race coordinator Tony Golden, the Kiwanis Club will be playing a more active role in helping run the event this year.
Sponsors for this family event will be able to reach 2,500 families through school websites, flyers in student backpacks, posters at the school, email blasts, Rock Slide t-shirts, and a booth at the event. Advertising dollars spent sponsoring the Rock Slide will be returned entirely to the participating schools as a non-profit donation.
Interested sponsors should contact Golden at 303-562-7674 or by e-mail at Contact by e-mail . To learn more about the Rock Slide visit www.dcrockslide.com.