Rocky Heights Nighthawk newscasters walk the red carpet
August 1, 2011
/
/
Comments Off

on Rocky Heights Nighthawk newscasters walk the red carpet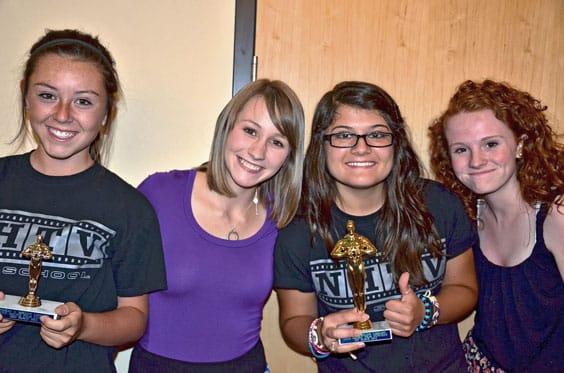 RHMS students, thanks to their filmmaking and performing experiences on the middle school's Nighthawk Television show, were the proud recipients of the 2011 Teen Short Film Festival awards (pictured from left to right): Brooke Duran, Logan Schurr, Kirbi Spanbauer, and Emily Haigh.
By Kathy Dunker with photo by Amy Shanahan
The Phillip S. Miller Library in Castle Rock recently held its annual Teen Short Film Contest. With 22 entries received, the top nine were chosen to compete in their Red Carpet event on Friday, June 24. Five of the top nine films were made by students from Nighthawk Television at Rocky Heights Middle School (RHMS).
The event was open to the public and the viewers were asked to vote that evening for films in a number of different categories. The short films were funny, scary, exciting and entertaining. One hundred and thirteen audience members voted while volunteers and staff tallied the ballots. The crowd enjoyed sandwiches donated by Sprouts and watched a preview of the new movie, "Transformers: Dark Side of the Moon."
RHMS was proud to walk away with most of the top honors, including: First Place, "Love" by Logan Schurr, Kirbi Spanbauer, Rebecca Pousma and Emily Haigh; Second Place, "It's Time To Go" by Sarah Carlson, Brickelle Bro, Lauren Adkins and Lindsey Koehn; Third Place, "Ditch Day" by Logan Schurr, Kirbi Spanbauer, Brianna Bradley and Brooke Duran; Best Cinematography by Jon Hayek; Best Editing, "It's Time To Go" by Sarah Carlson, Brickelle Bro, Lauren Adkins and Lindsey Koehn; and last but not least Best Screenplay, "Mirror Mirror" by Paige VonBank, Belle Diebel, Alana Smart and Bailey Zagar.
All of the winners received a flip camera and Best Buy gift cards donated by Best Buy in Parker, as well as early preview movie tickets to Transformers 3, Transformers 3 shirts and backpacks.
Congratulations to all of these students for their hard work and creativity in the making of their unique cinematography!