RHMS students go south of the border
August 1, 2011
/
/
Comments Off

on RHMS students go south of the border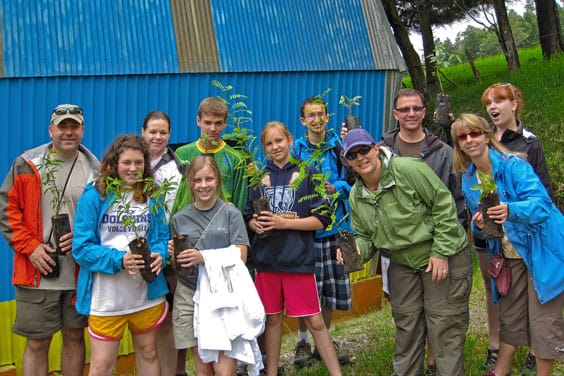 Ready to plant trees in the Costa Rican Rain Forest (pictured from left to right) are Nick Chavasse, Grace Serianne, Christina Chavasse, Brianna Cooke, Shane Johnson, Katie Mueller, Ryan Betthauser, Kay Peterson Kaul, Clark Wilhelm, Lynette Cooke, and Stephanie Betthauser.
Article by Amy Shanahan with photo courtesy of Kay Kaul
In early June, six students from Rocky Heights Middle School (RHMS) traveled to Costa Rica on a once in a lifetime adventure. The students all study Spanish in school and spent much of their trip speaking the native language.
While in Costa Rica, the students and their chaperones visited a local elementary school to donate some much-needed school supplies to the children. They also teamed up with Santa Elena High School to help with their local reforestation project by planting trees in the Costa Rican Rain Forest. Both of these experiences were very rewarding for the students.
Spanish teacher, Kay Kaul, accompanied the kids on the trip and said, "This Costa Rican Adventure is an invaluable experience for the students and it is the best way to expand the education of my students beyond the four walls of the regular classroom. They get to see the culture and language they learned in a book come alive in real life experiences, which they will remember for a lifetime!"