So you got an Instant Pot for Christmas…
January 1, 2019
/
/
Comments Off

on So you got an Instant Pot for Christmas…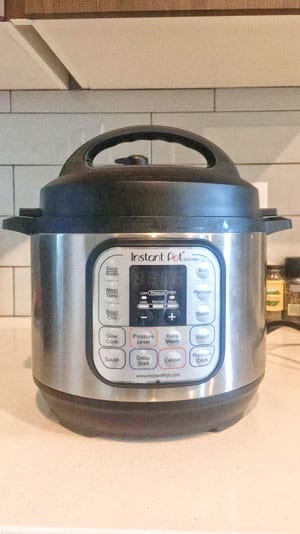 Electric pressure cookers are all the rage, and this particular brand, Instant Pot, topped the wish list for many this holiday season.

Article and photo by Catalin Varela
So you got an Instant Pot for Christmas…now what? The contraption has so many buttons and flashing lights it could probably launch to the moon. Before you get too overwhelmed, I'm here to tell you it is actually a piece of cake (something you could make in your Instant Pot, in fact).
Well, what is this thing that looks like a cross between a Crock-Pot (aka slow cooker) and a rice cooker and costs roughly three to four times more than a Crock-Pot? An Instant Pot (aka electric pressure cooker), much like a Crock-Pot, cooks faster and easier than preparing meals on a stove top, and it offers hands-off cooking that does not require constant attention.
The difference is that slow cookers typically run at lower temperatures over a longer period of time, while electric pressure cookers typically cook at higher temperatures. This difference in cooking mechanism results in drastically different cooking times. Typically, an electric pressure cooker makes a dish in less than an hour, whereas the minimal cooking time for a slow cooker is generally four hours.
With endless possibilities, it is best to start simple before going too crazy. Thankfully, just about anything you decide to make doesn't require much more than combining things in the pot and pressing start. Here is a super simple Instant Pot winter chili recipe that is Paleo, Whole30, and Keto friendly:
Winter Chili
INGREDIENTS:
1 pound grass-fed ground beef
1 yellow onion
1 can fire roasted diced tomatoes
1 can pumpkin purée
2 cups bone broth
3 bell peppers…of any color combination you like
1 cup chopped kale
1 cup diced carrots
Pinch of salt
Pinch of pepper
1 teaspoon garlic powder
1 teaspoon cumin
1 tablespoon oregano
1 tablespoon paprika
3 tablespoons chili powder
…and any other spices you want to add
INSTRUCTIONS:
1. Set your electric pressure cooker to "Sauté," brown meat and add chopped onion.
2. Add spices and all remaining ingredients.
3. Close lid, make sure steam release valve is pointing to "sealing" and cook on high pressure for 10 minutes.
4. Once the pressure cooker is finished cooking, allow the pressure to release naturally.
5. Garnish with toppings of your choice; vegan sour cream, avocado, grain-free tortilla chips to name a few.
6. Enjoy!!
There are other brands and electric cooker variations, but they operate under the same premise. I hope your Instant Pot experience is exciting and rewarding! Make sure to share all your creations with us on Facebook and Instagram with the handle @CastlePinesConnection. We'd especially like to see you bake your cake and eat it too.