Sock It To 'Em campaign seeks socks
December 1, 2016
/
/
Comments Off

on Sock It To 'Em campaign seeks socks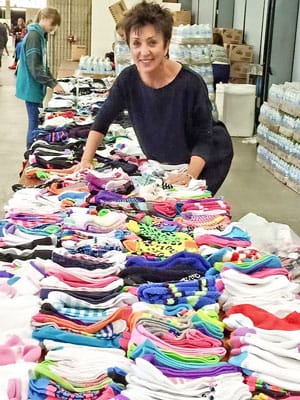 Sue Lee with 4,700 pairs of socks at the Annual Dolls for Daughters and Toys for Boys Toy Shop. Lee said, "This year we hope to provide 15,000 pairs of socks for children."

By Lisa Nicklanovich; photo courtesy of Sue Lee
Castle Pines Village resident Susan Elizabeth Lee started the Sock It To 'Em Sock Campaign in 2011 by asking her friends to collect socks for the homeless. Socks were, and still are, the most requested item by the homeless. What began as an idea among a few friends is now a 501(c)(3) public charity and in 36 states.

Last year, the campaign provided 33,000 pairs of new socks to more than 40 shelters, services and agencies in the greater Denver Metropolitan area that serve those who are experiencing homelessness.

Lee shared that within the homelessness demographics, 11 percent are veterans, 10 percent are teens and 30 percent are children. NEW socks are needed for men, women and children. Help by making someone's toes and feet warm by dropping off NEW socks at any of the following locations through December 31: MiYO Café (858 W. Happy Canyon Road) – see enclosed Food & Dining guide for special offer, Leading Edge Therapy (7280 Lagae Road), or Elements Massage (323 Metzler Drive, Suite 105, or 4991 Factory Shops Boulevard). For more information, visit www.sockittoemsockcampaign.org.