Softball teams come together to compete for a great cause
November 1, 2013
/
/
Comments Off

on Softball teams come together to compete for a great cause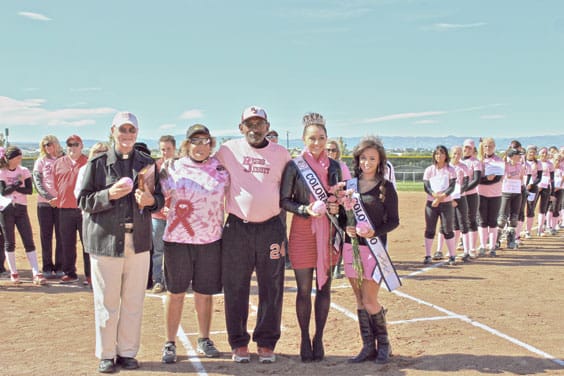 The Catch for the Cure softball game between Rock Canyon High School and Regis Jesuit was a success due to the commitment and passion of two schools working together for a great cause. Miss Colorado Christian Schwiegerath and Miss Teen Colorado BreeAnna Hilsenrath made an appearance and received pink softballs signed by both teams from Father Sullivan of RJ, RCHS coach Deb Kortbawi and RJ coach Charlie Williams.

By Amy Shanahan; photo courtesy of Tammy Caldwell
The varsity and junior varsity girls softball teams at Rock Canyon High School (RCHS) and Regis Jesuit (RJ) came together on October 5 to raise money for a cause that is important to so many. The two teams participated in the second annual "Catch for the Cure" softball game, in which money was raised to benefit Sense of Security, an organization that provides assistance for men and women with breast cancer.
The Catch for the Cure game was the brainchild of RCHS head softball coach Deb Kortbawi, who approached her good friend and RJ head coach Charlie Williams with her idea two years ago. The coaches worked with their two respective schools, parents and communities to bring the idea to fruition. But it was really the girls on the team who made the event such a success. Team players from both schools sold t-shirts and cookies and collected pledges in order to raise money and awareness.
The girls wore special pink uniforms and made posters with the names of those they were playing for. RJ senior Lauren Caldwell played in honor of her great-aunt and great-grandmother and remarked, "It's amazing to know that so many people are willing to use their skills and strengths to support such a wonderful cause. Knowing that I gave my all on that dirt Saturday for my family and the millions affected fills my heart with pride. I feel I am able to make a difference!"
Following the last game, the two teams presented a check for $2,612.41 to Sense of Security, a non-profit organization in Denver, which provides financial support to those going through treatment for breast cancer.
RCHS Coach Kortbawi was very proud of her team and their strong desire to support such a wonderful cause. "I am most proud of how the girls look forward to the game and raise the money. They are very compassionate about this event, not only the game but the cause itself," stated Kortbawi. "I strive to teach my girls to be confident, secure and independent women, and we want to give back to the community that supports us."