Spirited Golden Buffalo Marching Band is the heartbeat of game day
October 1, 2016
/
/
Comments Off

on Spirited Golden Buffalo Marching Band is the heartbeat of game day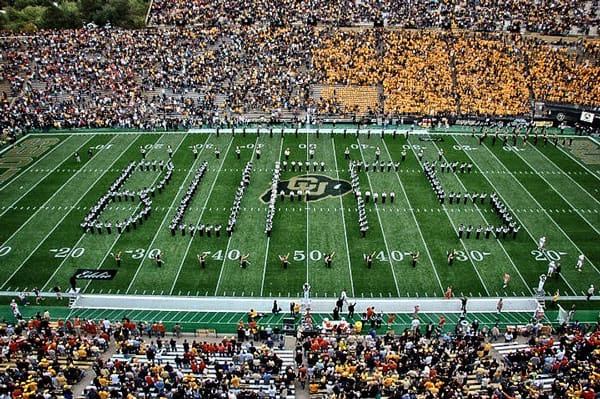 The University of Colorado Golden Buffalo Marching Band entertains spectators at each home game with their dynamic sound, lively marching style and creative formations.

By Lynn Zahorik; photos courtesy of University of Colorado and Penny Jordan
Every football season, the University of Colorado Golden Buffalo Marching Band (GBMB) thrills thousands of spectators with exciting performances. They are the pride and heartbeat of the Boulder campus. For many fans, the highlight of a Saturday football game is the pregame, halftime and postgame performances by the spirited GBMB. The 100-year-old band consists of more than 200 students from each school on campus and throughout the United States. Eighty percent of the band members are from Colorado. Three Castle Pines CU students are members of the band: senior Jared Jordan and sophomore Conner Lewis play the trumpet, and sophomore Kate South plays the snare drum. Each of them played in the Rock Canyon Jaguar Marching Band.
The yearly marching band experience starts the week prior to the start of the school year at band camp. During this intense week, members meet 12 hours a day to get ready for the football season. On these long hot August days, friendships are made, and a band family is formed, which will provide a valuable support system for the students throughout their college careers. All three agree that one of the best parts of being a member of the band is the camaraderie. "I've definitely met some of my best and lifelong friends by doing band," said South. "It's amazing to get to work with other talented people who love the same thing as you and together work as a team to perfect an art."
The commitment is large and requires great time management. During the first semester, the GBMB rehearses for two hours on Monday, Wednesday and Friday afternoons, and on game days the band is "on" for eight to 10 hours. They perform at every home football game, select away games, bowl games and every Friday night before home games for the Pearl Street Stampede to psych up the hometown crowd.
Jordan remarked, "I enjoy participating in all the super fun, crazy traditions and being part of a big happy musical family."
With pride and spirit, Jordan, Lewis and South look forward to marching through their college career as members of the GBMB. "I would highly recommend the band to prospective students," said Lewis. "It is both a terrifically fun and supportive community that greatly enhances the college experience. The band is the heartbeat of the enormous spectacle of school spirit."