Spread cheer and give where you live
December 1, 2013
/
/
Comments Off

on Spread cheer and give where you live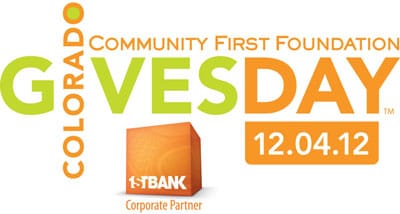 By Lynne Marsala Basche

Since 2010, the Community First Foundation and FirstBank have been encouraging Coloradans to give where they live and donate to local nonprofits on one single day, "Colorado Gives Day." This year, starting at 12 a.m. on December 10, people are energized to unite and inspire others to support local charities, and it is all done online.
The Community First Foundation's online giving program is run through www.coloradogives.org, and while people can donate to more than 1,000 Colorado nonprofits any time during the year, Colorado Gives Day brings attention and focus to the act of contributing when it may otherwise just be a passing thought. In addition, FirstBank, through an incentive fund, proportionally allocates money across all charitable donations received that day.
Up-to-date information on supported non-profits can be found at www.coloradogives.org, including an overview of the organization, its mission, upcoming events, and financials. It is easy to find organizations using the site's robust search engine, which offers search criteria based on name, city, zip code and keyword.
Donations can be made using electronic checks or all major credit cards, and there is no minimum amount to donate. To make it even easier to participate on December 10, contributions can be pre-scheduled to be delivered on that day, so there is no need to wait.
Be as generous as possible – and maybe support even more than one local nonprofit – knowing that being a part of something larger is doing so much for so many people.
Colorado Gives Day is an easy and convenient way to support those in need, and there is no better way to spread cheer than to help others.