Spring break fun; Lots to see and do close to home
February 1, 2010
/
/
Comments Off

on Spring break fun; Lots to see and do close to home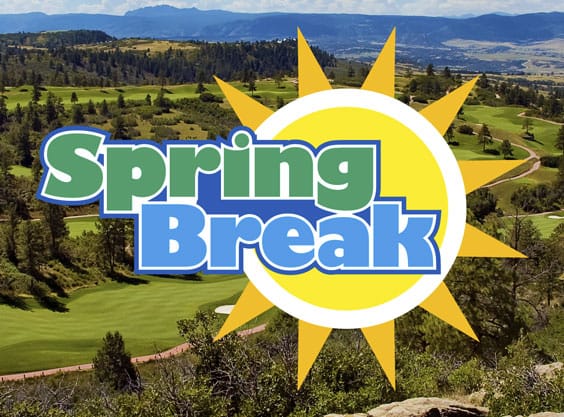 By Elean Gersack
Spring break will be here before we know it. Plan ahead and enjoy some memorable family activities right here in Colorado. From state parks to museums, there is much to do and see close to home.
Outdoor Recreation
Castlewood Canyon State Park
2989 South State Highway 83, Franktown
303-688-5242
This beautiful retreat is located just to the southeast in Franktown – about five miles south of Highway 86 and Highway 83. Enjoy educational programs, hiking, picnicking, and a rock-climbing wall. A daily park pass is $6 and an annual pass is $60 with park hours from 8 a.m. to 5 p.m. For more information, visit http://parks.state.co.us/Parks/castlewoodcanyon.
Chatfield State Park
11500 N. Roxborough Park Road, Littleton
303-791-7275
Bike, hike, camp, ride horses, or boat at the Chatfield State Park. Park hours are from 5 a.m. to 10 p.m. A daily park pass is $7 and an annual pass is $60. For more information, visit http://parks.state.co.us/Parks/Chatfield.

Garden of the Gods
1805 N 30th Street, CO Springs
719-634-6666
Looking for something out of the ordinary? Venture south to the amazing geological rock formations at The Garden of the Gods in Colorado Springs. Hike, bike or take a guided walk tour through this historic Colorado nature park. The Park is open daily from 5 a.m. to 9 p.m. and the Visitor & Nature Center is open 9 a.m. to 5 p.m. Both are free and open to the public. For more information, visit www.gardenofgods.com.

Roxborough State Park
4751 North Roxborough Drive, Littleton
303-973-3959
Unique rock formations, plants and wildlife make Roxborough State Park a must-see for all. Park hours are 8 a.m. to 5 p.m. Biking and hiking, as well as snow shoeing and cross county skiing, are favorite activities at Roxborough. A daily park pass is $6 and an annual pass is $60. For more information, visit http://parks.state.co.us/Parks/roxborough.

Museums and Attractions
Cheyenne Mountain Zoo
4250 Cheyenne Mountain Zoo Road, CO Springs
719-633-9925
For a change of scenery, consider exploring the zoo to the south – Cheyenne Mountain Zoo in Colorado Springs. This beautiful location offers some steep climbing, so in addition to viewing some amazing animals, enjoy a good cardio workout. For more information, visit www.cmzoo.org.
The Children's Museum of Denver
2121 Children's Museum Drive, Denver
303-433-7444
Located just off of I-25 and 23rd Avenue in downtown Denver, The Children's Museum is the perfect creative learning venue for toddlers and young children. For more information, visit www.cmdenver.org.
The Colorado Railroad Museum
17155 W 44th Ave., Golden
303-279-4591
For the conductors out there, make a trek to the historic Colorado Railroad Museum. Open daily from 9 a.m. to 5 p.m. On April 3, the Bunny Express takes kids on a ride with a special guest, the Easter Bunny. Other upcoming special events include the Mother's Day Goosefest in May; Buffalo Bill Wild West Days in July; Junior Railroad Days in August and A Day Out With Thomas in September. For more information, visit www.crrm.org.
Denver Museum of Nature & Science
2001 Colorado Blvd., Denver
303-322-7009
An all-new exhibit, Body Worlds & The Story of the Heart, opens on March 12. It will reveal — through the lenses of anatomy, cardiology, psychology and culture — how the heart nourishes, regulates and sustains life. Witness the ancient tombs of the lost sea during the IMAX film, Arabia, which opens on February 19. For more information, visit www.dmns.org.
Downtown Aquarium
700 Water Street, Denver
303-561-4450
Explore sea and land creatures including the desert, coral reef and rainforest. The Downtown Aquarium is a must-see for locals and visitors of any age. Open Sunday – Thursday from 10 a.m. to 9 p.m. and Friday and Saturday from 10 a.m. to 9:30 p.m. For more information, visit
www.aquariumrestaurants.com/downtownaquariumdenver.
The Wildlife Experience
10035 S. Peoria, Parker
720-488-3300
Located just east of I-25 and Lincoln Avenue, The Wildlife Experience offers wildlife exhibits and an extreme screen iWERKS theater. The massive Globeology exhibit explores the world's wildlife and habitats – including the rainforest, tundra, desert, coral reefs and more. Two new exhibits – Tiny Footprints and Wondrous Cold (opening March 16) make this outing full of things to do. Explore "Dolphins & Whales" the new iWERKS film, scheduled to hit the screen on February 6. For more information, visit www.thewildlifeexperience.org.

Indoor Recreation
Rock'n & Jam'n Indoor Climbing
7390 S. Fraser St, Unit E, Centennial
303-254-6299
This indoor climbing facility offers the tallest and steepest climbing walls around. For more information, visit www.rocknandjamn.com.
Jump Street
10081 W. Bowles Avenue, Littleton
303-339-3030
You can jump on a trampoline anywhere, but where else can you jump on a trampoline, and then bounce off a WALL of trampolines? Exercise has never been so much fun! Now open, too, is the Vault Laser Maze. Slither, jump, and climb over lasers. Come with friends to add some friendly competition. For more information, visit www.gotjump.com.
Skate City
5801 S. Lowell Way, Littleton
303-795-6109
Bring your skates, or pick them up there, and get out on the floor for some old-fashioned roller skating fun. Open Fridays, Saturdays and Sundays (times vary). Traditional roller skates or in-line roller blades are available for rental. For more information, visit www.skatecitycolorado.com/littleton.htm.
Pump It Up
Parker – 18850 Clarke Rd #100 , Parker
720-840-0200
303-770-7867
pumpitupparty.com
Your kids can bounce, slide and play while you meet other parents and make new friends all in a safe, clean and climate-controlled environment. FREE WiFi available throughout the facility.