March 1, 2019
/
/
Comments Off

on State of the City

Article and photos by Terri Wiebold
"…By any objective standard, the state of our city is magnificent," were among City of Castle Pines Mayor Tera Radloff's opening comments at the City's first-ever State of the City address on February 19.
Surrounded by friends, colleagues, city and county officials and regional partners, Radloff acknowledged those who serve and have served the community. "Together we are building one of the most livable and aesthetically beautiful cities in America – one in which people and families thrive, businesses grow, new development pays for itself and adds value, and our municipal government is small, independent, responsive and effective," she said.
Highlights of the morning breakfast presentation included a comprehensive video recap and timeline of the City's "story," as well as highlights of the City's accomplishments and vision moving forward.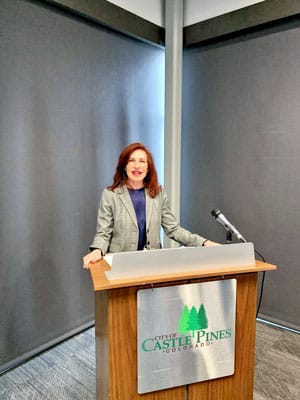 "This year we allocated two-and-a-half times what we did last year on city street maintenance and repair; I am proud of that," said Radloff. "However, even with the increase in funding this year and revenue potential from becoming a Home Rule City, street funding is a challenge that will require consistent focus."
Another priority for the mayor and city council is strong, productive relationships with its community and regional partners, the Castle Pines North Metropolitan District (CPNMD) in particular. "Our relationship with the District is stronger than ever," said Radloff. "I love that we have a collaborative relationship and that our collective boards have our citizens and our community in mind," she said. CPNMD President David McEntire echoed that appreciation at the CPNMD meeting later that evening: "We appreciate you showing your support, mentioning the hard work being put into simplifying and maximizing the economies and efficiencies that we both need in our organizations, if not in our city," he stated.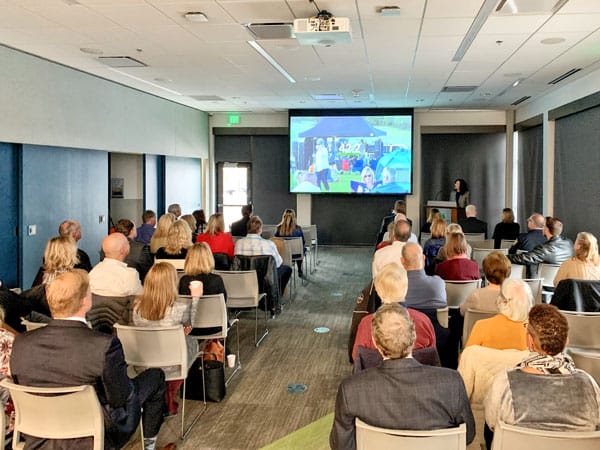 A brief Q &A session allowed citizens the opportunity to ask questions of Radloff and City Manager Michael Penny. Inquiries pertained to water, street maintenance and repair, wildlife in the city, and commercial occupancy and vacancies (Safeway in particular). Short video responses to several of the questions have been posted to The Castle Pines Connection Facebook page at www.facebook.com/theconnection. A video of the State of City presentation has been posted to the City's website at https://www.castlepinesgov.com/stateofthecity.
Radloff closed the address, "I am proud to stand here today and tell you that we are only just beginning to realize our full potential. There are great things ahead for the City of Castle Pines."