Super Saturday celebrates fitness and reading at BRE
November 1, 2011
/
/
Comments Off

on Super Saturday celebrates fitness and reading at BRE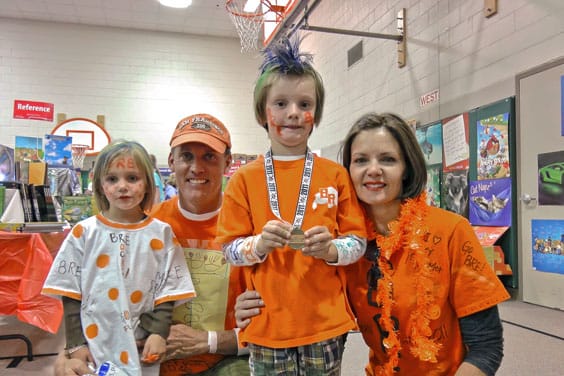 First grade spirit winner, Evan K. – along with his family show off crazy attire after the Rock Slide Fun Run.
By Simon M., BRE Ridgeline Staff Reporter
At Buffalo Ridge Elementary (BRE), something fun is always happening. On October 1, the annual spirit-filled Super Saturday was held. The Rock Slide Fun Run, the main event was combined with the Fall Book Fair kick-off and annual Waffle Breakfast — all Buffalo Ridge Educational Alliance (BREA) sponsored events.
The Rock Slide is a family fun run that starts and ends at BRE. Students, families and staff ran or walked a 5K or one-mile course. About 350 people participated in the Rock Slide. Prizes were awarded to the students who had the best school spirit. The winners dressed up in school colors and had crazy hair.
"The Rock Slide is a great event because it promotes healthy lifestyles and brings our community together," said Mrs. Gutierrez, physical education teacher at BRE. To prepare, training sessions were held on Wednesday mornings for four weeks before the big race. More than 150 kids took part in the training sessions by running around the school to get in shape for the race.
Josh H. a fifth grade student at BRE said, "The course for the Rock Slide was pretty challenging but at least it wasn't too long." He wore crazy pink hair to show school spirit, ran the 5K and enjoyed the delicious Waffle Breakfast. A crazy total of 318 waffles were served on Saturday.
The organizers were busy before the race. They planned the racecourse, sent flyers home to families, ordered the Waffle Breakfast, and collected money from everyone who did the Rock Slide.
The Book Fair was a great part of Super Saturday, too. There were books, posters, and pencils, erasers, and other fun stuff. It was a great kick-off for the Book Fair to have the Rock Slide and the Waffle Breakfast on the same day.
Super Saturday turned out to be a great success!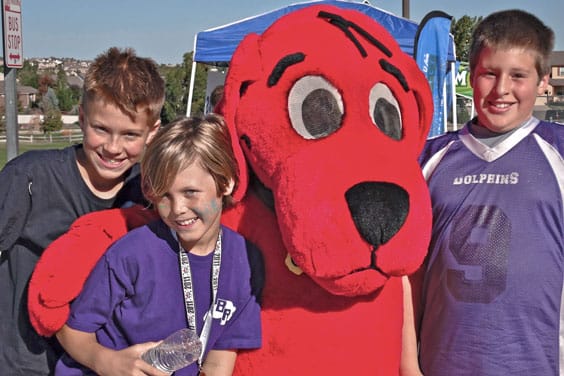 Clifford, the big red dog, gets fifth graders Seth, Pacey and Isaac excited to read and to come to the book fair.