Take personal pride in your potluck
November 1, 2018
/
/
Comments Off

on Take personal pride in your potluck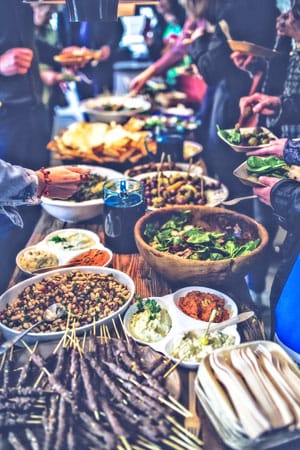 By Lisa Crockett
'Tis the season to share your meals with others. If you are sometimes (or possibly always) happy to have others roast the bird and host the traditional gatherings that happen this time of year, be sure to have a few tricks up your sleeve for lending a hand. Here are a few ideas for what to bring the next time your offer of "Can I bring anything?" is gratefully accepted. These tasty but simple suggestions will work for even the laziest or most kitchen-inept contributor, so grab a platter and prepare to dazzle your friends and loved ones with your culinary prowess.
Appetizers –
Easy-cheesy cheese ball: Allow two eight-ounce bricks of cream cheese to soften at room temperature for about an hour. Then, using an electric hand mixer at high speed, blend the cream cheese with one (one-ounce) envelope of dry ranch dressing mix and a cup of shredded cheddar cheese. Using a spatula, form the mixture into a ball. Put the ball in the center of a platter and serve with crackers.

Hum-dinger hummus: Spread pre-prepared hummus (eight ounces) in the bottom of a shallow serving dish. Top with finely-chopped roasted red peppers, finely-chopped cucumber, chopped toasted almonds and chopped scallions. Serve with fresh pita or pita chips.
Sides –
Fall-in-love fall salad: Combine a bag of pre-cut butternut squash (12 to 16 ounces) and a 15-ounce can of rinsed garbanzo beans. Toss squash and beans in a tablespoon of olive oil and roast on a baking sheet for about 30 minutes, until the squash is soft and lightly golden. Toss with eight chopped kale leaves, an additional tablespoon of olive oil, six minced basil leaves and the juice of two lemons, then add salt and pepper to taste. Let the salad sit at room temperature for about an hour to let flavors develop, or store in the fridge several hours or overnight.

24-karat carrots: Halve three pounds of carrots (regular or multi-colored) lengthwise and toss with 3 tablespoons of olive oil, half a teaspoon of cumin and a half of a teaspoon of salt. Spread carrots in a single layer on a baking sheet, and roast at 425 degrees until carrots are soft, about 30 minutes. Garnish with cilantro, if desired.
Desserts –
Perfect pumpkin cake: Mix a spice cake mix (18.25 ounces) with a 15 ounce can of pumpkin and blend until well combined. Pour the mixture into a well-greased Bundt pan and bake at 350 degrees until the cake springs back when gently touched (about 45 minutes.) Cool the cake and then turn it out onto a platter. Dust with powdered sugar.

Fluffy and fruity: Using an electric hand mixer, mix together 12 ounces softened cream cheese, two cups powdered sugar, a cup of canned pumpkin, one teaspoon of ground ginger, and one teaspoon of pumpkin pie spice. When the mixture is well blended and smooth, use a spatula or large spoon to gently stir in one eight-ounce container of whipped topping. Serve with sliced fruit or cinnamon graham cracker dippers.