Snapshot of an Army veteran in Castle Pines
November 1, 2018
/
/
Comments Off

on Snapshot of an Army veteran in Castle Pines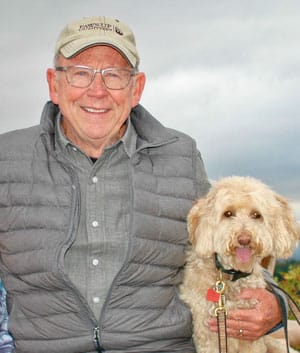 Retired U.S. Army Captain Michael Sennett now enjoys the peaceful feel of Castle Pines with his wife, Janet, and mini-Labradoodle named Teddy.
By Elise Brassell; photo courtesy of Michael Sennett
Michael Sennett recalls being part of the U.S. Army during one of the most tumultuous eras of American history; the Vietnam War. "I deployed to Vietnam in June of 1970, leaving my wife at home and six-months pregnant. I was a captain assigned to the 25th Infantry Division, 40th Medical Detachment in IV Corps area, 45 miles from Saigon near Cu Chi. I and a fellow dental officer were then attached to a field hospital in Camp Frenzell-Jones, 17 miles from the Cambodian border," Sennett said.
As part of a medical detachment, Sennett provided dental care and oral surgery during the war, and when he returned home, he was awarded a Bronze Star and a Presidential Unit Citation.
At 27 years old, Sennett experienced "alternately boring and terrifying days in the sweltering heat" of Vietnam. On Sundays, he and a fellow dental officer would frequently go out on Medical Civic Action Program (Medcap) missions, taking health care to orphanages and villages, all the while marking his DEROS (date estimated return overseas), which helped him track time until he would return home to his wife and new daughter.
Sennett, who was born and raised in Denver, and his wife, Janet moved to Castle Pines Village two and a half years ago from Denver. "Castle Pines offered the peace and beauty we needed," Sennett said.
After the Army, Sennett had a successful 38-year career as a family dentist until he retired in 2009. He and Janet have six children and eight grandchildren living in Colorado. Sennett is enjoying his retirement by fly fishing and painting; look for his paintings on the walls of MiYO Cafe at 858 W. Happy Canyon Rd. in The Village at Castle Pines this December. Thank you for your service Michael!