The Bibliophiliac's Corner: I See Life Through Rosé-Colored Glasses
June 1, 2019
/
/
Comments Off

on The Bibliophiliac's Corner: I See Life Through Rosé-Colored Glasses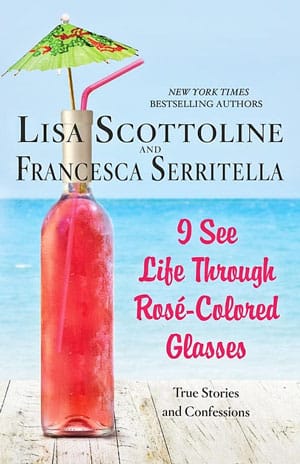 By Susan Helton
Filling in for Amanda Merriman, Connection writer Susan Helton is also an avid reader. This month, she shares a fun book of vignettes about anything and everything.
I was fortunate enough recently to attend a talk given by novelist Lisa Scottoline (Someone Knows, etc.) at Douglas County Libraries – Philip S. Miller. Scottoline is an entertaining and funny speaker. When I learned she had also authored some humorous books, I just knew I had to read one. I See Life Through Rosé-Colored Glasses: True Stories and Confessions is her most recent book of humorous tales about everyday life, written with her daughter Francesca Serritella and published in 2018.
With chapters like "Can You Hear Me Now?" and "Francesca Serritella, Attorney at Paw," I knew I was in for a real treat. Each chapter is a single essay – most of them anecdotes really – that highlights an aspect of the actual lives of these two women. Scottoline and Serritella describe life's ups and downs, presenting "the upside of ups and downs," as Scottoline states in the first chapter.
Scottoline's and Serritella's close mother/daughter bond shines clearly through the stories, which are punctuated with funny moments of generational eye-rolling. Mother and daughter aren't afraid to poke fun at themselves and each other, but always in a loving way. The authors alternated writing from their individual perspectives, taking a whimsical look at relatable foibles of everyday life, while also sharing heartwarming stories and reminiscences. While Scottoline writes about what it's like getting older with hazards like vanishing eyebrows, Serritella shares what life is like for a single thirty-something. Both women tell it like it is, with sprinklings of wisdom and the rare instance of a bit of colorful language. They both love animals, so several stories also include adventures with their pets.
I found that I couldn't put the book down after I started it, so I read it in a single afternoon. The stories took me from chuckling and even laughing outright – and getting strange looks from my cat – to smiling through tears, and back again. This light-hearted journey through common, everyday events makes for a welcome break from our own worries and things-to-do lists, like a mini vacation. I See Life Through Rosé-Colored Glasses is a perfect summertime read.
Have you read a great book recently? Share it with us at editor@castlepinesconnection.com.