The Canyons development progress gains momentum
February 1, 2016
/
/
Comments Off

on The Canyons development progress gains momentum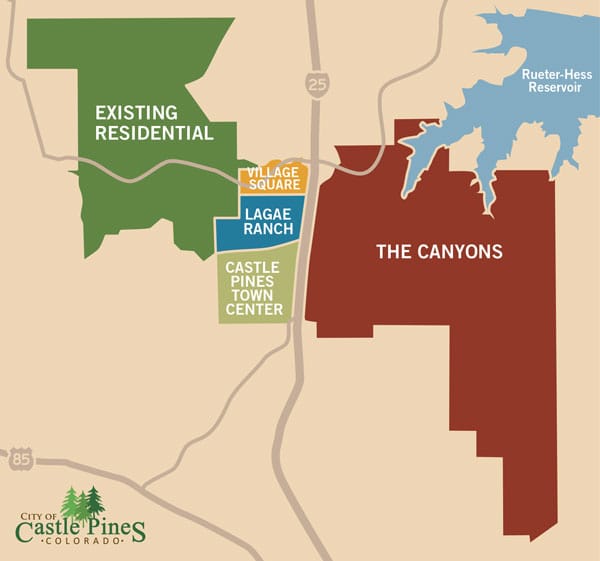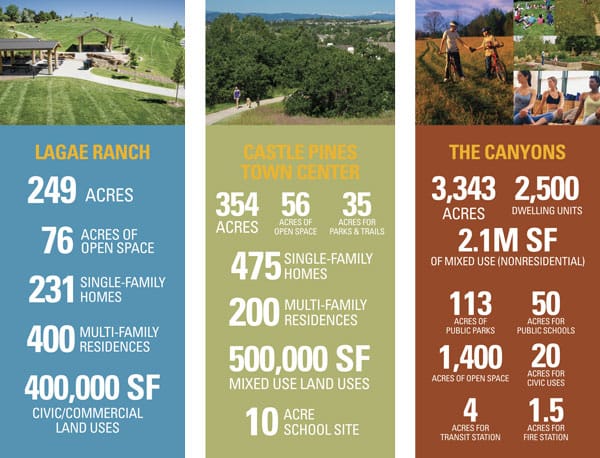 By Lisa Crockett; graphics courtesy of the City of Castle Pines
Nearly seven years after the City of Castle Pines approved its annexation, land on the east side of town will soon have homes dotting its landscape.
Zoning for the land east of I-25 between the Hess Road and Happy Canyon Road interchanges includes plans for residential, commercial and civic uses. These uses were approved in 2009 by the City of Castle Pines. No action was taken on implementing construction on the development – called The Canyons – until last month, when Shea Homes purchased a sizable portion of the land. Now, homes are slated to be move-in ready some time in 2018.
Shea bought the land from the Alpert family through North Canyons LLLP. The company will oversee the development of a new master-planned residential community, which, at build-out, will feature up to 2,000 single and multi-family homes from a variety of builders. The Alpert family retains ownership of the balance of the 3,343-acre project, and could build up to an additional 500 homes as well as commercial and civic development projects at some time in the future.
"We're community developers," said Mark Nickless, general manager of The Canyons. "Shea has a great track record of developing communities, and we look forward to working with them as a partner on this project."
Shea plans to commence "horizontal" development – infrastructure like water, sewer, utilities, roads and sidewalks – later this year. Lots would be available for construction in 2017, with building beginning in late 2017 or early 2018. Homes will eventually be available in a wide range of price points. Park land, trails, open space, and school land will also be a guaranteed part of the city's new neighborhoods, but detailed plans for the project, which Shea estimates will take roughly seven to ten years, are still underway.
"Though we have a general idea for our land plan, we're really just at the point right now where we'll begin meeting with the City of Castle Pines to work through the planning process in order to obtain their approval," said Cheryl Haflich, marketing director for Shea Homes. "And though we're reticent to share anything until this plan is approved by the City, our intent is to offer a full complement of housing opportunities from the first-time homebuyer to custom living."
Castle Pines is currently home to approximately 3,500 households. The addition of up to 2,500 homes (which includes both single family and multi-family dwellings) will represent a sizable increase in the number of total homes within the city limits. However, because the land where homes currently exist in Castle Pines consists of about 2,500 acres and the land in The Canyons consists of about 3,300 acres, density in the areas of new construction will be considerably less than in established neighborhoods here.
"This [The Canyons] is a logical extension of what we're already doing in the City of Castle Pines," said Sam Bishop, Castle Pines community development director. "The new development will broaden and strengthen economic opportunities for the city as well as provide enhancement to recreation, open space, and cultural amenities. This is what we look for when we think about suitable and desirable land uses."
Moving forward, Shea will now begin the process of working with the City to gain approvals for more detailed plans as they are finalized.
"As a City, we'll be working to ensure that development in The Canyons will help to meet current and future needs in the community and also to see that things happen in an orderly and cost effective way," said Bishop.
For information about upcoming city meetings with The Canyons or Shea Homes, visit www.castlepinesgov.com/current-projects.