The changing of the guard…
February 1, 2010
/
/
Comments Off

on The changing of the guard…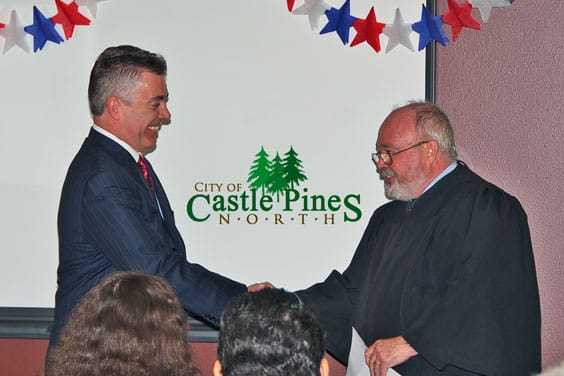 Municipal Judge Lewis Gresh congratulates Jeff Huff after taking the oath as the new mayor of the City of Castle Pines North.


Information provided by the City of Castle Pines North, photos by Tim Gamble
Municipal Judge Lewis Gresh officially swore in six new Castle Pines North (CPN) city officials in January at the Castle Pines Chamber of Commerce as families, friends and dignitaries joined in the celebration.
Judge Gresh began by inducting Jeffrey Huff as the new CPN mayor. Huff defeated incumbent Mayor Maureen Shul in the November election. Mark Shively also was sworn in and will assume the post of city treasurer.
When the city incorporated in 2008, a ward system was implemented with six council members representing the three wards within the city.
Newly elected Councilperson Darwin Horan and incumbent Councilperson Jennifer Havercroft will serve Ward 1. Newly elected Councilperson Shelley Hamilton-Bruer and incumbent Councilperson Kim Hoffman will serve Ward 2. Ward 3 welcomed two newly elected members, Councilperson John Ewing and Councilperson Doug Gilbert. Gilbert formerly served as the city treasurer.
"I would like to thank the previous council and city officers for their hard work during the past two years," stated Mayor Huff. "I am looking forward to getting started. Our new city council will address several important issues in the immediate future, including decisions on business licenses, wildlife management and essential city services."
Witnessing the swearing-in of the new city council, State House Representative Carole Murray, Colorado State Senator Mark Scheffel, and Douglas County Sheriff David Weaver lent their support.
Incorporated February 12, 2008, CPN is a city of about 10,000, located 20 miles south of Denver in Douglas County. For more information about news and events in the city, visit the city's website at www.cpngov.com or call 303-705-0200.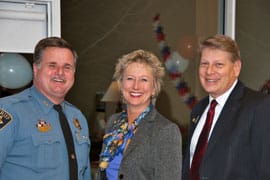 Douglas County Sheriff David A. Weaver, Colorado House Representative Carole R. Murray, and Colorado State Senator Mark Scheffel joined in the celebration of welcoming newly-elected officials at the City of Castle Pines North swearing-in ceremony on January 11.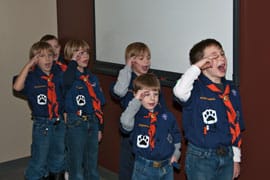 Castle Pines Boy Scout Pack 826, Tiger Cubs Den # 2 helped lead the "Pledge of Allegiance" during the City's swearing in ceremony at the Castle Pines Chamber of Commerce in January.