April 1, 2016
/
/
Comments Off

on The journey continues …

Excited to join the neighborhood, the congregation from Journey Church gathered on the vacant property with Pastor Scotty Priest (inset with wife Amy) to pray and bless the land.

Article and photos by Patte Smith
Four bus loads of Journey Church's Centennial congregation paid a visit on March 6 to the church's new 12.6-acre lot located at 9009 South Clydesdale Road between the Surrey Ridge and Oak Hills neighborhoods in unincorporated Douglas County. The church purchased the land in 2015.
Excitement was evident as individuals and families disembarked from the buses and trekked around the old ranch property. Many were amazed at the beauty of the location and one of the first things the kids did was run over to the drainage pond to look for critters. The parishioners hail from Parker, Bailey, Highlands Ranch, Aurora, Castle Rock, Englewood and Centennial. Families with young children and infants, elementary school kids, and teens joined together with older individuals and couples to celebrate and pray at the building site.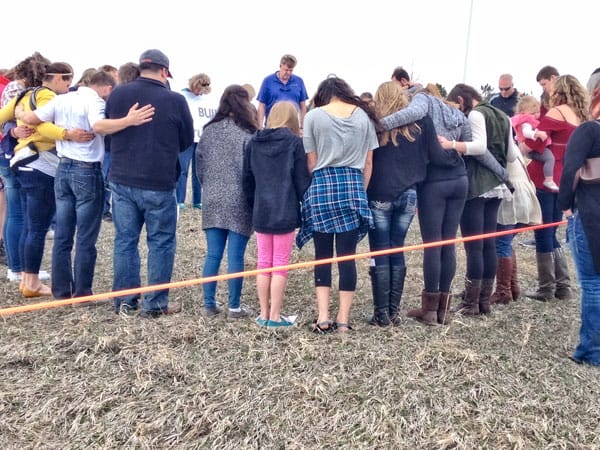 Crystal, a young woman who attends Journey Church noted "You cannot find more respectful and generous individuals than those who attend this church. It is a wonderful atmosphere and ministry." A boy skipped, smiled, and yelled to his family, "Well, this is our church folks." The boy's father said his son loves going to church. "The children's and teen's programs are great and the atmosphere is too. Our pastor's messages are relatable." Another young father added that his family has built solid friendships within the Christian-based church community and enjoys being involved in it.
Last month the Castle Rock location of Journey Church closed. The plan is to merge the two congregations at the Centennial location. This combined group of parishioners will attend the new Journey Church when it is completed.
What's next? "The plan at the current time is to complete the BUILD Campaign and see where we stand financially," noted Pastor Scotty Priest. "When we get final approval from Douglas County, we anticipate construction to begin in June of this year."
The church's website noted the total cost of the project to be $5.5 million with the aim of raising $2 million with the BUILD Campaign. The timeline for completing Phase 1, a 14,250 square-foot two story building that includes a 350 seat auditorium is spring 2017. There will be classrooms, a nursery, toddler room, and gathering area on the lower level.
To learn more, visit www.journeycolorado.com. For information about the BUILD Campaign visit http://buildjourney.com.


Journey Church congregation visited the 12.6-acre lot where their new church will be built. They were pleased with the location and look forward to building relationships in the community.