The Spa at the Inverness: a world away just minutes from home
April 1, 2012
/
/
Comments Off

on The Spa at the Inverness: a world away just minutes from home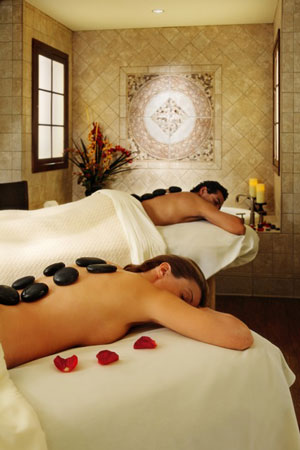 Couples can enjoy messages at the spa together.
By Lisa Crockett
A truly relaxing day includes a gentle but sumptuous feast for the senses: soothing sounds, tempting smells, delicious tastes and a feeling of tranquility and peace. For those of us who've endured the cold, dry conditions of a Colorado winter, a chance to rejuvenate (not to mention rehydrate) might be thought of as a far-away indulgence available only to those who have time to travel to an exotic location. But The Spa at the Inverness, just a few minutes north of Castle Pines on I-25, offers world-class pampering in a convenient location and at reasonable prices.
"We really are a hidden gem in this area," said Spa Director Tessa Kienow. "We offer a resort spa experience at day spa prices and are eager to reach out to the local community. You can come in for an hour and feel like you've been on a vacation."
The well-appointed 4,500 square foot space features soothing, natural décor and is home to an outdoor pool and hot tub, exercise room, a steam room, indoor pool, hot tub and fitness center – amenities available at no extra charge to all patrons of the spa.
"I think it is a great way to spend the day to come and take full advantage of all the spa has to offer – take a swim, get a workout in – and then have a service like a facial or a massage," said Kienow.
Services at the spa include skin treatments, microdermabrasion, facials, various kinds of massage, manicure, pedicure and waxing. During my visit to the Spa, I was treated to a soothing skin treatment by 23-year hotel veteran Karen Heater – the spa's lead massage therapist. The Red Flower products used during the treatment soothed my winter-rough skin and left me soft, sweet-smelling, and blissfully relaxed.
The Spa prides itself on using top-of-the-line skin care products from companies like Phytomer, SkinCeuticals, Eminence and Zents. This spring, the Spa will introduce a "blend bar" – a moveable skin-care station where patrons can blend their own lotions, scrubs and massage oil.
"The blend bar will be a fun way for us to take the Spa to other locations," said Kienow. "We also think this will be a fun way to appeal to our younger patrons."
The Spa also features food and beverage service. "The menu in the spa features lighter fare like sandwiches and salads, appetizers, a fruit plate, chocolate fondue or hummus and crudite," said Kienow.
Spa services can be used for group celebrations and special occasions like weddings and bachelorette parties, as well as birthdays, anniversaries and Mother's Day.
"We offer a mother-daughter package as well as a 'Generations' package, which would be wonderful for a mother-daughter-grandmother party," said Kienow. "We also offer gift certificates."
For large groups or services on holidays, Kienow recommends making reservations as soon as possible. For weekday services, however, she said one day is typically enough notice and walk-ins are welcome and can usually be accommodated.
The Spa at the Inverness is open to the public and is located in the Inverness Hotel at 200 Inverness Drive, Englewood. For more information, visit www.invernesshotel.com. Memberships to the Spa, which include special services and discounts, are also available.

Left: A spa patron enjoys a pedicure. Right: Alana Wright, Lead Spa Coordinator and Cindy Livingston, Spa Coordinator, greet guests at the Spa at the Inverness. The Spa is housed in the Inverness Hotel, just minutes from Castle Pines.