The Gym of Castle Rock debuts new space
April 1, 2012
/
/
Comments Off

on The Gym of Castle Rock debuts new space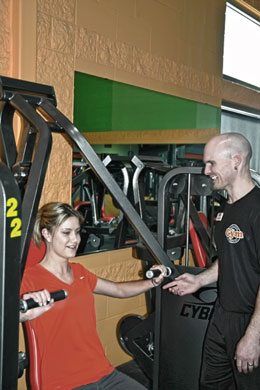 Personal Trainer Andrew Goodnow coaches Chelsea Woolen, a member at The Gym of Castle Rock. The Gym recently added a 3,000 square foot workout space.


By Lisa Crockett
Membership at The Gym of Castle Rock (The Gym) is growing, and the workout space and hours of operation are growing along with it. Last month, The Gym, located at 4760 Castleton Way in Castle Rock, added a new 3,000 square foot studio and increased its hours of operation. The new space is home to cardio kickboxing classes, spin bike instruction, mat Pilates and a form of no-impact, suspension cable training called TRX.
"We know people here on a first-name basis," said Fran Colombi who owns and operates The Gym with partners Terry and Bill Pfister. Colombi lives in Castle Rock and feels that being locally owned and independently operated gives The Gym a special, hometown feeling. "We're family friendly and we really care about our members and can offer personal touches you won't find at the big-chain gyms."
Colombi has parlayed that community feel into good works, with Gym members recently raising $2,000 for the Make-a-Wish Foundation through a "Fitness-a-thon." Participants in The Gym's CrossFit program also raised $2,000 for the Wounded Warrior Project through a CrossFit fundraiser called "Fight Gone Bad."
"The Gym offers something for everyone. We use heavy, top-of-the line equipment often used by professional athletes," said Colombi, "We have a dedicated CrossFit facility here at the gym, as well as more traditional offerings like 'boot camp,' core and cardio, spin and strength and yoga," said Colombi. "We also have showers, locker rooms and a supervised kids lounge."
Membership for participation in The Gym's CrossFit program – an innovative fitness method that uses constantly varied, high intensity functional movement – can be purchased on its own, or in combination with a membership to the regular gym facility.
CrossFit classes are offered throughout the day. Class sizes are limited and are always supervised by a trained CrossFit coach who ensures proper technique and safety and offers motivation and encouragement. The Gym also offers affordable personal training to small groups.
"We now offer and option where gym members can team up with two friends and meet with a trainer for half an hour. You warm up on your own and then meet with the trainer for the workout. This makes training really effective and affordable," said Colombi.
Personal trainer Andrew Goodnow said he's passionate about the work he does at the Gym.
"I get to develop my own programs," said Goodnow. "It's a different workout every single time I teach or train."
Memberships at The Gym do not require an enrollment fee or a contract and start at just $1 per day. Tanning and massage are available at the gym; additional fees apply for these services. For more information about The Gym, visit www.thegymcastlerock.com.
For information about The Gym's CrossFit program, visit www.crossfitcastlerock.com.