The world is a stage for these young performers from Castle Pines
February 1, 2014
/
/
Comments Off

on The world is a stage for these young performers from Castle Pines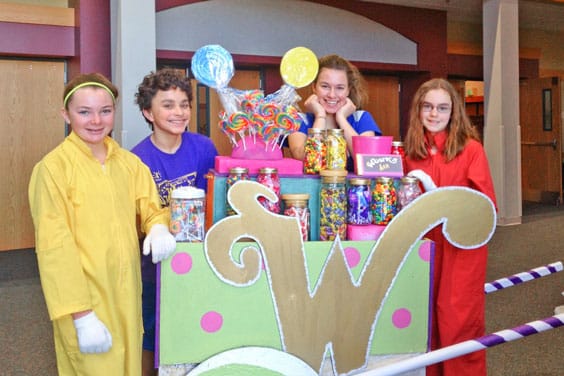 Castle Pines residents Taylor Robinson, Grayson Kamel, Sarah Parker and Ally Fritsch performed in "Willy Wonka" this winter. "Playing an Oompa Loompa in 'Willy Wonka' was my favorite part so far because of all the fun dance numbers and the amount of stage time," remarked Fritsch.
By Amy Shanahan; photo courtesy of Nancy Fritsch
Youth from throughout Castle Pines are displaying their acting, singing and dancing skills through a wonderful Denver based program called Christian Youth Theater (CYT). CYT is a program that caters to youth ages six through eighteen and offers six musical productions throughout the year, after school theatrical arts classes, as well as summer camps.
CYT's motto is "developing character … one stage at a time," and the organization strives to produce high quality performances and productions while also providing a friendly, supportive and positive environment for participants.
Castle Pines Village resident Ally Fritsch has performed in six different productions through CYT and has come to view the coaches and students as extended family. "I love all of the people at CYT because they are all so friendly and accepting of others," remarked Fritsch. For example, on my first day of rehearsals for my first show, I had just barely walked in the door when a really nice girl came up and befriended me. She is one of my best friends now!"
Youth who participate in CYT programs are able to take classes in a wide variety of theatrical based arts, including singing, dancing, auditioning, improvisation, and magic. They are then encouraged to participate in the theatrical productions. The process of being involved in a show involves auditions, which include a one-minute monologue, and song and dance auditions for the musicals, with eight hours of rehearsals each week.
CYT runs two-to-three productions at one time in order to accommodate as many interested youth as possible. This winter the program staged productions of "Willy Wonka", "Into the Woods", and "The Prince and the Pauper." The productions become a family affair, and family members participate by providing marketing support, public relations, concessions, and much more. Fritsch's mom Nancy raved, "A lot of effort from a lot of different people make these shows happen. There is so much love and dedication and it really shows in the high-quality productions."
"The Prince and the Pauper" will be performed at Hampden Hall in Englewood on February 6 through 9. Auditions for the spring performances will take place later in February. For more details, or to learn more about CYT, visit
www.cytdenver.org.