Therapy dogs bring joy to Castle Rock Adventist Hospital
May 1, 2016
/
/
Comments Off

on Therapy dogs bring joy to Castle Rock Adventist Hospital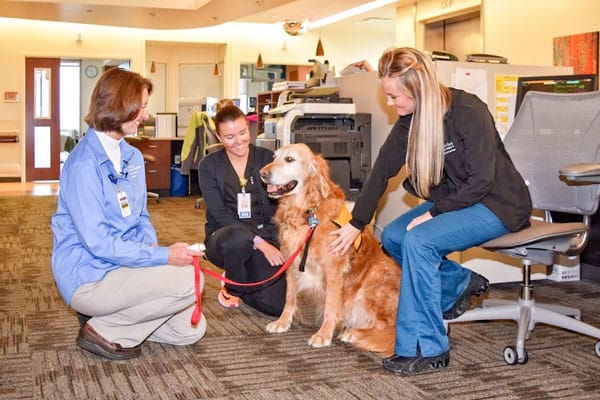 Angel Paws handler Linda Tieman and her trusted companion Dillon bring smiles to the hospital staff.

Article and photo by Lynn Zahorik
Though Nancy and Terry Anderson have only lived in Castle Pines for six months they have already made a significant impact in our community. Thanks to their generous support, a therapy dog program entitled Angel Paws (AP) has been launched at Castle Rock Adventist Hospital.
Dogs have long been recognized as being a positive force in the healing process. A visit from a registered therapy dog can reduce anxiety, lift spirits, and help motivate patients in their recovery.
Golden retrievers Darby and Dillon, and standard poodle Buddy make-up the canine side of the AP team. Coordinators Meme Martin and Linda Tieman lovingly execute the new program at the hospital. Their teams are certified through the Pet Partners organization. The AP therapy dogs and their handlers are a welcome distraction from illness or pain by bringing laughter and encouragement to everyone they meet. While roaming the halls of the hospital, these soulful dogs also warm the hearts of the hospital staff.

Wisconsin residents for more than 50 years, the Andersons moved here to enjoy the rugged beauty and blissful peace of Colorado. They have loved dogs their entire lives and this deep affection for man's best friend led them to join forces with the hospital this fall to develop the AP therapy dog program. Nancy chose the program name of Angel Paws because she sees the dogs as angels in fur suits.

"I want to share the healing ministry of the Angel Paws dogs with everyone in a difficult situation," said Nancy. "The dogs are soft, loving and giving. They seem to know just what a person needs and are happy to be that for you. The love flows both ways. I'm excited for the community to know these wonderful animals are here for them! We hope to someday have 14 dogs available to serve, one for each morning and afternoon."
If you are interested in volunteering for Angel Paws or have a Pet Partners registered therapy dog, contact AngelPaws@centura.org or if you would like to support the unconditional healings associated with these furry friends, visit CastleRockHospitalFoundation.org/gift.