This artist rocks in more ways than one
October 1, 2019
/
/
Comments Off

on This artist rocks in more ways than one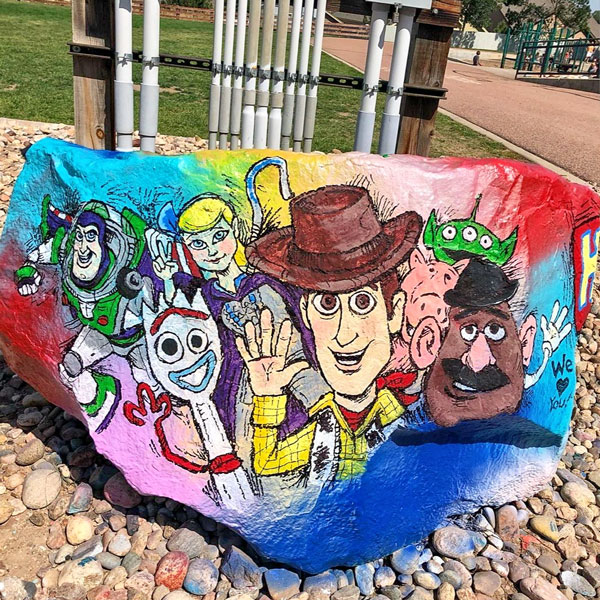 Timber Trail's spirit rock came to life with Rob Hay's recent illustration of Toy Story 4.

By Julie Matuszewski; photos courtesy of Rob Hay
Have you ever wondered what those big bright colored rocks sitting outside school entrances represent? Those rocks are spirit rocks which have been painted by school communities to recognize a student's birthday, show school spirit, thank or recognize a teacher or staff member and announce congratulatory events.
Castle Pines resident Rob Hay rented the Timber Trail Elementary (TTE) spirit rock in honor of his daughter Charlotte's ninth birthday. After three and a half hours of drawing free hand and painting, Woody, Buzz Lightyear and all of the Toy Story 4 characters came to life on the back field of TTE. The inspiration behind the Toy Story 4 theme came from Charlotte's love of the recent movie release.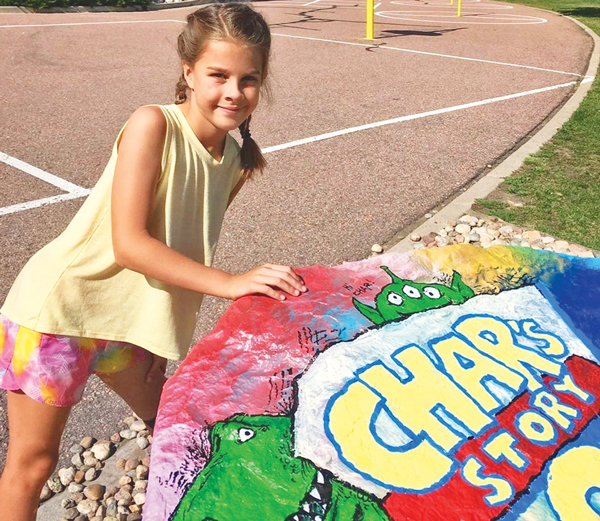 Charlotte Hay's birthday story was shared with the community "Toy Story 4" style by way of the spirit rock at TTE.

Hay went to school for drawing and has a bachelor's degree in fine arts. He was hoping to be a cartoonist for Disney or Warner Brothers back in the '90s when he graduated from college, but Hay chose to stay in Colorado to become a graphic artist. Today, he teaches art at a kindergarten through fifth grade school in Aurora and loves to paint, draw and create masterpieces when he is not teaching.
Hay's work is no stranger to the Castle Pines community. He illustrated the book "A Friendship Forever" written by Castle Pines resident Jeannine Bernardi. Hay still spends a lot of time creating logos, painting murals, and illustrating for friends, family, and for those who offer Hay side work. He loves every minute of drawing as it is his therapy.
Not only is drawing and painting therapeutic for Hay, he says it was fun to surprise his daughter Charlotte with a newly-painted spirit rock. To date, Hay has painted two TTE spirit rocks. Both his spirit and talent truly rock!