Timber Trail Elementary races to read
July 1, 2018
/
/
Comments Off

on Timber Trail Elementary races to read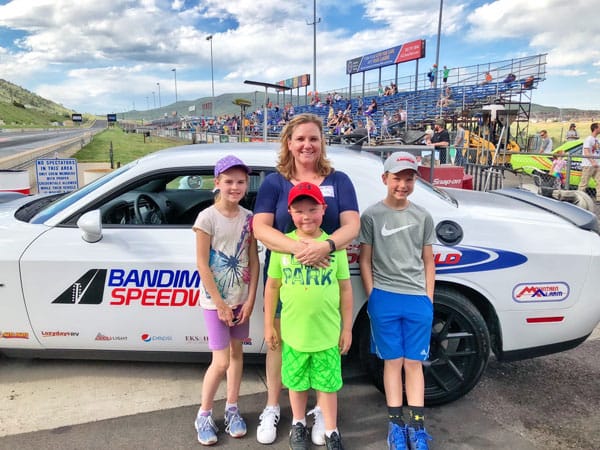 Cindy Berndt represented TTE at the staff challenge race. Evelyn Ball, Ethan Berndt and Weston Nielson were among the TTE students who came out to support her.

By Susan Helton; photos courtesy of Nicole Avis, Anna Miner and Amy Ball
Beginning after spring break, Timber Trail Elementary (TTE) students joined in on Bandimere Speedway's Race to Read program. This was the first year that TTE participated in the six-week reading program, which ran from March 26 to May 4. Students completed take-home reading sheets to earn prizes, including wristbands for entry to the speedway's season-opening event in mid-May, the NAPA Auto Parts "Night of Fire & Thunder." As part of the program, two racers visited TTE to share their race cars with the kids. Betsy Peek from Sedalia brought her Dragster and Logan Morris from Castle Rock brought his Camaro SS.
Another part of the Race to Read program was the staff challenge that occurred about a week before the Night of Fire & Thunder. Each participating school could send one staff member representative. Cindy Berndt, TTE music teacher, represented the school and joined roughly 50 other teachers in competing to qualify to race at the season-opening event. Each teacher had two runs to qualify. Berndt reached 94.75 mph with a reaction time of .399 and a final race time of 15.008 seconds in her first run and 94.58 mph in 14.994 seconds in her second run. "I had a blast! It was a ton of fun knowing that I had permission to floor it and reach max speed! Funny part is that I stumbled on my old teammate, Bill Richmond, who was the tech teacher here for many years. He represented Sedalia Elementary. We raced each other for kicks!" stated Berndt.
TTE readers were the clear winners in this reading race. Ninety-one students participated in the optional program and totaled 1,464 hours of reading. Fifty-seven of those students earned the wristbands to the Night of Fire & Thunder. The first-graders had the highest participation in the program and were first to the finish line, with the second-graders close behind. Top readers from each grade received Race to Read t-shirts.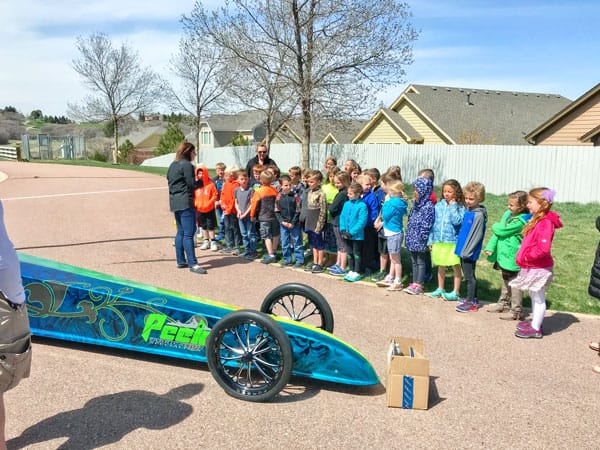 Students checked out the race cars and asked questions during an afternoon recess.

The top readers overall at TTE were 80108 residents Max Avis and Nicolaus Miner. For the kindergarten-to-second-grade group, Avis was the top reader with over 24 hours read. Miner was the top reader for the third-to-fifth-grade group with more than 48 hours read. For their achievements, both students received additional fun prizes and had their names displayed on the LED message sign visible from the grandstands at the Night of Fire & Thunder.

Third-grader Nicolaus Miner enjoyed his visit to Bandimere Speedway (as well as his ice cream sandwich). "It was really loud, but the cars were really cool!" stated Miner.